Add to Calendar
2022-08-16 15:04:32
2022-08-16 15:04:32
Title
Description
United States
City of Chandler
info@chandleraz.gov
America/Phoenix
public
Location
Chandler Center for the Arts | 250 N. Arizona Ave.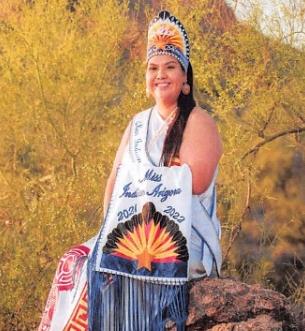 Please join us for the 61st Annual Miss Indian Arizona Scholarship Program!!! Each of the 22 Tribes in Arizona may be represented. Participation is open to enrolled members of Arizona Indian Tribes between the ages of 17-24 who are in high school, college, trade school or who are employed and wish to pursue their education. The young women participate in a program which presents Arizona Indian traditional principals and values through songs, dance, stories, dress, and humor.
The young ladies compete in six categories: interview, talent (contemporary or traditional), evening gown, traditional dress, oral presentation, and personal interviews. Each participant receives a scholarship to assist in furthering the participant's education. The young woman selected as Miss Indian Arizona serves as an Ambassador for all Arizona Tribes for a period of one year. During this year, she attends many functions and events throughout the state and serves as a role model to Arizona Indian youth.
Miss Indian Arizona Association is comprised of all volunteers, including past title holders, tribal representatives, and people who have a genuine interest in promoting, presenting, and facilitating the Miss Indian Arizona Scholarship Program.