Jan. 15, 2022
|
10 a.m. - 6 p.m.
Add to Calendar
2022-01-17 20:50:28
2022-01-17 20:50:28
Title
Description
United States
City of Chandler
info@chandleraz.gov
America/Phoenix
public
Location
Dr. A.J. Chandler Park West, 3 S. Arizona Ave.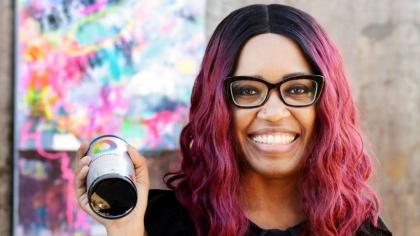 In honor of Martin Luther King Jr, Arizona-based artist, Tiesha Harrison, the Chandler Diversity, Equity, & Inclusion Division, and the Vision Gallery invite the public to learn more about the Civil Rights leader by partaking in an interactive art game at the 27th Annual Chandler Multicultural Festival.
Each participant will have the opportunity to throw a Velcro ball at a board that spells out community. Depending on which letter they hit, the participant will be invited to create, make or learn something about Martin Luther King, Jr.
After the event, Harrison will collect all of the participatory parts to create a collaged portrait of the esteemed icon that will be on display at the Vision Gallery through the month of February. 
About the Artist: Artist Tiesha Harrison is a multi-disciplinary Arizona-based influential, abstract expressionist artist. She graduated from Milan Art Institute in 2020. Her purpose is to incorporate painting and art immersive experiences to evoke emotion, raise the level of consciousness, and connect with her community through collaborative art projects.
Tiesha begins her process in a soulful and innovative approach which include elements traditionally used in conceptual and interactive art. Works often include bold visuals, vibrant concepts, mixed media, and hand-cut collages. Her work is best described as fearless, intuitive, and infinitely expanding.