6 p.m. - 10 p.m. Nov. 8, 2019
Add to Calendar
2019-11-08 18:00:00
2019-11-08 22:00:00
Title
Description
United States
City of Chandler
info@chandleraz.gov
America/Phoenix
public
Location
Tumbleweed Ranch, 2250 S. McQueen Rd. Chandler, AZ 85286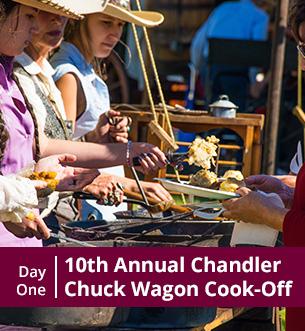 Experience a rare, up-close look at Western history during the family-friendly culinary event.  The event starts on Friday, Nov. 8 with a special evening of entertainment from Rhondavous Band, dancing, and a beer garden. Authentic 1880s chuck wagon teams from around the West use historic cooking methods to create the best meals fit for the trail. Wagon teams win prizes in various food categories and the public can purchase these unique chuck wagon meals.
Lunch meal tickets go on sale Saturday morning at 10 a.m., and the meal is served at noon. Meal tickets are limited and sell out quickly.! Enjoy Western history, cooking demonstrations, unique vendors and live music from Old Blue Band. 
Friday: $10 admission
Saturday: Free admission, $15 meal ticket

Hosted by the Pardners of Tumbleweed Ranch, a 501c3 entity, and the Chandler Museum.  Funds raised help develop educational outreach opportunities at Tumbleweed Ranch.