Add to Calendar
2023-02-07 17:20:11
2023-02-07 17:20:11
Title
Description
United States
City of Chandler
info@chandleraz.gov
America/Phoenix
public
Location
Celebation Plaza at Tumbleweed Park | 2250 S. McQueen Road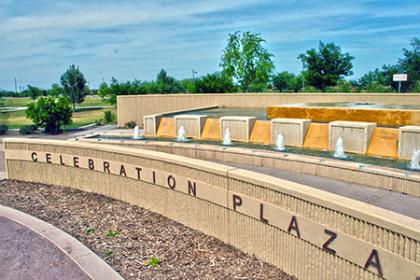 Celebration Plaza, a permanent water feature and monument wall near the center of Tumbleweed Park, is a place where the Chandler City Council recognizes organizations or individuals for their civic leadership, public outreach and outstanding personal service and commitment to the community. Nominations are open to members of the public each year. After nominations are made, the Chandler Museum Foundation forwards recommendations to the Chandler City Council for final selection.
This year's honorees include:
Willie Arbuckle, Robert Turner, Artie Mae Turner, Joella Arbuckle, Ernestine Jackson, Willie Ruth Payne, J. L. Payne and Nina Loftan
These eight Black students integrated Chandler High School in 1949, five years before the Supreme Court decision in Brown vs. Board of Education integrated schools nationwide.  After attending segregated schools in Mesa, Phoenix and Chandler's Goodyear School, these groundbreaking students opened the school year as juniors, sophomores and freshmen at Chandler High.  Willie Arbuckle and Robert Turner became the first Black students to graduate from the school in 1951.
Major General Jackson and Barbara Bogle
Arriving in Chandler to run the Pecos Valley Alfalfa Mill, the Bogles also operated a feed lot and vast farmland. General Bogle was adjutant general of the Arizona National Guard and served on the CUSD governing board. Barbara, known for her philanthropic service, led organizations including PTAs, Chandler Historical Society, Chandler Service Club and Philanthropic Education Organization. Bogle Junior High and a theater at Chandler Center for the Arts are named in their honor.
Reverend Joseph Patterson
Few faith leaders have had as large an impact on the Chandler community as Reverend Joseph Patterson. A pastor at the original St. Mary's Catholic Church, Father Patterson believed in the importance of education.  During his time in Chandler, he helped to establish St. Mary-Basha School and Seton Catholic High School.  Father Patterson also supported Chandler's youth by establishing sports leagues, notably organizing Chandler's first little league baseball teams.
Celebration Plaza is at the center of Tumbleweed Park, which is located at 2250 S. McQueen Road, on the southwest corner.