Nov. 5, 2022
|
9 a.m. - 12 p.m.
Add to Calendar
2022-11-29 18:49:46
2022-11-29 18:49:46
Title
Description
United States
City of Chandler
info@chandleraz.gov
America/Phoenix
public
Location
Fire Station No.1 | 1491 E. Pecos Road.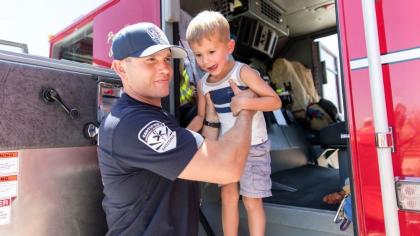 Join us for an open house the whole family will enjoy. Take tours of the station, a fire truck, ambulance, apparatus displays and demonstrations of emergency medical services. Free balloons and fire helmets will be available for children.
In addition to the fun, Chandler's Fire Department will offer blood pressure checks and provide drowning prevention information. In the Fire Safety House display, children will get hands-on instruction on how to get out of a smoke-filled environment.
This open house will also feature instruction on Hands-OnlyTM CPR, which when performed by a bystander has been shown to be as effective as "conventional" CPR in emergencies that occur at home, work, or in public. There are only two steps to remember: call 9-1-1 and push hard and fast in the center of the chest.