5 p.m. - 7 p.m. Nov. 21, 2019
Add to Calendar
2019-11-21 17:00:00
2019-11-21 19:00:00
Title
Description
United States
City of Chandler
info@chandleraz.gov
America/Phoenix
public
Location
Palette Collective, 505 S. Chandler Village Drive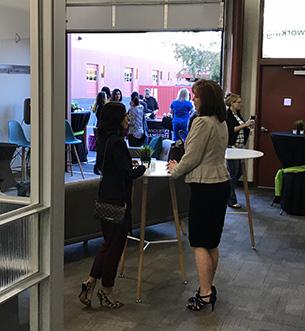 Entrepreneurship Week: A Panel Discussion and Networking Event 
From Employee to Entrepreneur, Taking the Plunge into Business Ownership  
The City of Chandler Economic Development Division, along with Palette Collective and the Chandler Chamber of Commerce, celebrate Global Entrepreneurship Week (Nov. 18-22) by hosting a panel discussion with local entrepreneurs focused on taking the plunge into business ownership and their journeys from employee to entrepreneur. 
The panelists will discuss their mindset as they took the plunge into the world of being their own boss and the obstacles and pitfalls they overcame to build successful businesses. They also will share how their entrepreneurial journey evolved into elevating their own personal brands.
Event Co-Hosts: Palette Collective, Chandler Chamber of Commerce 
Food Sponsor: Mingle + Graze 
Audience: Small Business Owners | People with Business Ideas looking to start their journey. 
Panelists:  
1.    A Natural Transition: Dr. Corey Menke,  founder of In Align Chiropractic Arizona
2.    Serial Entrepreneur: Jenny Poon, founder and CEO of Co-Hoots 
3.    Creating New Legacies: Avauntee Andrepoint, author of "The Start-Up Guide to Success and Sustainability"
4.    Changing Life Stages: Kathy Cano-Murillo, founder of The Crafty Chica
Moderator:  Seth Wells, Owner & Founder of Palette Collective