5:30 p.m. - 7:30 p.m. Nov. 12, 2019
Add to Calendar
2019-11-12 17:30:00
2019-11-12 19:30:00
Title
Description
United States
City of Chandler
info@chandleraz.gov
America/Phoenix
public
Location
Kyrene de la Paloma Elementary School, 5000 W. Whitten St., Outside Amphitheater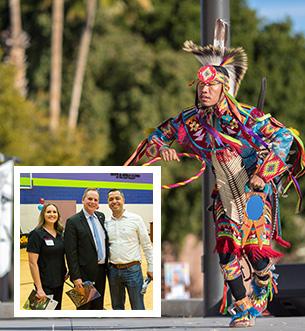 Residents are encouraged to join Mayor Kevin Hartke and the Neighborhood Advisory Committee during his Mayor on the Move event held in West Chandler.

The event will kick-off with a City Expo starting at 5:30 p.m. The expo will have more than 15 booths representing several City departments and provides an opportunity for Chandler residents to ask questions and share feedback about city-related services or programs. The Mayor's remarks will start promptly at 6 p.m. followed by a performance from Indigenous Enterprise.

Indigenous Enterprise is locally based group that educates the public about real-life Native Americans, sharing proud tradition and culture through powwow dancing. In addition, the top three winners from October's Miss Indian Arizona's Scholarship Program will be in attendance.

The Yellowman Fry Bread food truck will have Navajo tacos and fry bread with powdered sugar available for purchase starting at 5 p.m. Attendees are encouraged to bring a lawn chair or blanket to sit and relax in a grassy area in front of the school's amphitheater during the free performances.
The event is free, and an RSVP is encouraged.