10:30 a.m. Jul. 27, 2019
Add to Calendar
2019-07-27 10:30:00
2019-07-15 20:47:46
Title
Description
United States
City of Chandler
info@chandleraz.gov
America/Phoenix
public
Location
Chandler Sunset Library, 4930 W. Ray Road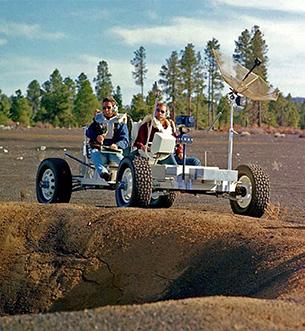 The next Our Stories speaker series takes a look at the 50th anniversary of the first manned mission to the moon and the key role Arizona played in preparing for this and later NASA missions. The presentation, "Arizona Goes to the Moon," starts at 10:30 a.m., Saturday, July 27, at the Chandler Sunset Library, 4930 W. Ray Road.  
In preparation for this remarkable human achievement, Apollo astronauts traveled to the Grand Canyon, Meteor Crater, and volcanic fields around the state to learn geology and practice driving moon buggies on lunar excursions. Additionally, engineers from the U.S. Geological Survey worked with NASA to develop and test instruments and to create detailed maps of the moon that were critical to navigating around the lunar surface. In many cases, the equipment and maps were tested at dramatic Arizona landscapes that simulated the moonscape and sometimes featured man-made crater fields created by artists working with the scientists.
This Our Stories presentation will feature Kevin Schindler, an award-winning educator and writer who has worked for more than 24 years at Lowell Observatory in Flagstaff, where he also serves as official Lowell historian. Combining a dual passion for history and science, Schindler has presented hundreds of educational programs, authored five books and written more than 500 magazine and newspaper articles. Schindler was sheriff of the Flagstaff Corral of Westerners, an international organization dedicated to western American history, for 14 years and a board member of the Flagstaff Festival of Science for 16 years. 
The presentation is supported in part by the Arizona Humanities. 
Our Stories is a free speaker series open to the public, with each session sharing first-hand accounts and expert insights into the history of Chandler, the Valley and Arizona. It is produced and hosted by the Chandler Public Library and the Chandler Museum, with support from the Friends of the Chandler Public Library and the Chandler Historical Society.