4 p.m. - 6 p.m. Nov. 23, 2019
Add to Calendar
2019-11-23 16:00:00
2019-11-23 18:00:00
Title
Description
United States
City of Chandler
info@chandleraz.gov
America/Phoenix
public
Location
Vision Gallery,10 E Chicago St., Chandler, AZ 85225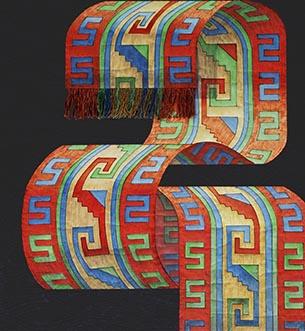 This annual exhibition has grown from a local and regional quilt show to a respected vehicle for contemporary works. Previously hosted by the Chandler Center for the Arts, this year's Art Quilts XXIV exhibition will be held at the Vision Gallery. The yearly exhibition draws entries from around the United States and Canada and allows hundreds of visitors each year to experience quilting as an art form.
In the words of juror Georgia Heller,"Something extraordinary goes above and beyond what is expected. Extraordinary magic can be woven through ordinary daily life, and heroes are ordinary people who do extraordinary things."
The exhibit runs Nov. 22, 2019 through Jan. 3, 2020, during normal Vision Gallery hours.