The Xeriscape Garden is currently closed for construction.

Chandler's Xeriscape Demonstration Garden is a joint project among the Water Conservation Division, the Arts Commission and the Parks Division. It features community art, walking paths and water-wise plants and is designed to demonstrate a low-maintenance landscape full of color and fragrance. The park was originally installed in 1987 and renovated several years ago.
Xeriscape Demonstration Garden
410 N. Arrowhead Dr.
Northeast corner of Erie St. and Arrowhead Dr.
The Xeriscape Garden is a functional, user-friendly demonstration space with mature trees, shrubs and plants. There is a granite path that flows between areas of the garden where themes include a children/ pet-friendly area, a wildlife garden and a low-maintenance garden. Changes in grading help to reduce erosion and also highlight passive water harvesting techniques through the installation of berms and swales. Large signage explains design and landscaping techniques and smaller signs on many of the plants identify them by Latin and common name.
Use Water Wisely: A Desert Diamond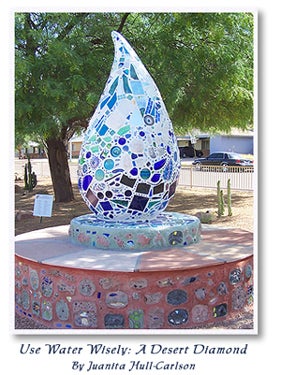 Arizona artist Juanita Hull Carlson was selected to create a sculptural element within the perimeter of the City of Chandler's Xeriscape and Water Conservation Garden. Hull-Carlson worked with 5th and 6th-grade students from Erie Elementary School to create the artwork. She used concrete, tile and glass mosaic to create artworks with neighborhood participation. The project is designed to help enhance the message of water conservation and is the culmination of a six-month neighborhood arts project.
The sculpture was created through a partnership with the Chandler Arts Commission and Chandler Unified School District's Art Masterpiece program.