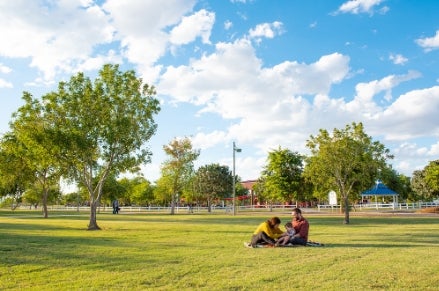 By donating a tree to the Living Tree Donation Program, you can help beautify our city parks while at the same time celebrating life by planting a tree. You can plant a tree in tribute of a wedding, the birth of a child, anniversary, or to honor the memory of a loved one.
Plant a Tree in Tribute
Celebrate a birth, a wedding, an anniversary or honor the memory of a loved one through the Living Tree Donation Program.

Throughout the ages, trees have stood as strong life symbols. Trees improve our air quality and beautify our parks. A tree can also serve as a living and loving remembrance of a special event.
Plant a Family Tree
Plant a tree to honor the birth of a child, to serve as a symbol of a growing family. Like the tree, the family spreads its roots as it branches out, preparing a strong base for future generations.
Perfect as a Monument
The donation of a tree is a wonderful testimonial to a life well lived. Family and friends will have a living monument for a loved one, which will also provide beauty, shade and landscaping for city parks.
How To Donate A Tree
You may donate money towards the purchase of a special tree, or donate a live tree (a tree still in the container). You may select any park owned by the City of Chandler and Community Services will arrange the planting, as well as the tree maintenance.
As a policy, we are not able to hold ceremonies. However if family and friends would like to celebrate after the tree is planted they may do so. In addition, due to the increased maintenance, we do not allow the placement of decorations, notes, and ornaments on the trees.
Our staff will gladly work with you in selecting the type of tree and tree location in the park of your choice. Monetary tree donations are as follows:
15 gallon/6-8 ft. $60 donation

24" box/8-10 ft. $150

36" box/10-12 ft. $500

48" box/12-14 ft. $950
Donations of $500 and higher include a 4 x 7 cast bronze plaque that will be placed at the base of your tree. If you would like to purchase a plaque with the $60 or $150 donation, please include an additional $167 dollars with your donation. Please make all checks payable to: "City of Chandler."
Please allow the Parks Division a minimum of 15-business working days from the point of receiving your donation for your tree to be planted. If a plaque is ordered, please allow additional time (four to six weeks) for the plaque to be received.
This program does not remove trees from personal property. All live tree must be delivered to the Parks Administration, 650 E. Ryan Road, Chandler, AZ 85286.
All tree donations are tax deductible.