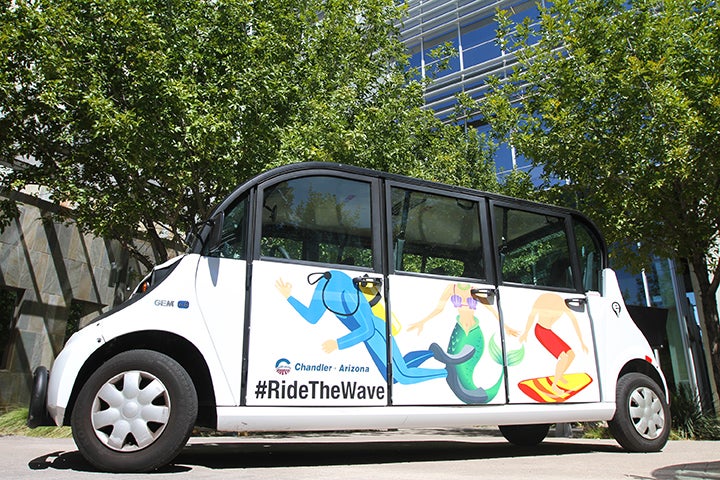 COVID-19 Update: The free Wave service will begin starting Thursday, May 21.
We may live in a desert, but that doesn't mean you can't ride a wave -- at least in Chandler's booming downtown. Visitors to Downtown Chandler can now get free shuttle rides from four parking garages to destinations throughout the downtown area with a new e-cab service, dubbed the "Wave."
The free shuttle service is available from 5-9 p.m. on Thursday, and from 5-10 p.m. on Friday and Saturday evenings, making it a valuable resource for visitors, including those with limited mobility, who patronize downtown businesses.
The vehicles will circulate from the parking garages through the downtown square and to nearby venues. Patrons also can wave them down for rides or hail a ride by calling 602-730-5153. #RideTheWave
Introducing a new member of the Downtown Chandler family:
Hello. My name is Wave.
No last name. Just Wave. Like Sting. Or Cher. Or Pink, but I'm mostly blue.
I'm new in town and wanted to introduce myself. I'm living in Downtown Chandler giving people free rides from the City's four parking garages to locations in and around the historic square. I can take six of you on my back, but one seat is reserved for my handler.
I was hired to work part-time by the City of Chandler because a large surface parking lot located across from City Hall is going away to make room for a new hotel, offices and retail shops. This means some of you will be parking in garages instead. No fear, the Wave is here. You can catch me 5-9 p.m. on Thursday, and from 5-10 p.m. on Friday and Saturday evenings.
I'm not a golf cart, though I'm all-electric. I'm a street-legal eCab with safety features like seatbelts, windshield, headlights and turn signals.  I have doors and windows and am built to please, with adjustable sliding seats, 43 inches of leg room and six inches of suspension travel to smoothly traverse any humps or bumps.
My forefathers were born in 1998 in Fargo, North Dakota, but today we hail from Anaheim, California. Nothing against Fargo, but I don't miss my owners chipping ice off my body.  My birth certificate says I'm a Polaris GEM eCab, but you can call me Wave. The name seems fitting, since I'm from the west coast where waves are ridden all the time. In fact, I have a little rap tune I hum while crusin' around; "You can catch me, ride me, or wave me down.  There's two of us circulating throughout downtown."  And I have a joke.  This cracks me up. "What part of me is the laziest? My wheels, because they're always tired!"
Speaking of wrap, you'll have no trouble spotting me, cause some crazy graphics adorn my sides. There's a scuba diver, mermaid and surfer dude. But they're headless. Why headless? Because their bodies line up with the heads of passengers. But, I gotta tell ya, it's a little disturbing when I'm sitting empty.  I look like a victim of eCab-itation.
So look me up when you're Downtown any Thursday, Friday or Saturday evening. I'm free and hang out at Chandler's downtown garages and also will stop if you wave me down.  And if you need a ride from one Downtown establishment to another, I'm yours to command.  You can reach me at 602-730-5153. Hang loose!