The Chandler Multicultural Festival teamed up with the Chandler International Film Festival and Cultura Communications to bring you a collaborative and eclectic weekend of international films, a variety of cultural performances, food and beverage vendors, and fun for the family.
By embracing cultural diversity events and collaboration efforts in Chandler, we can learn to interact with others, build bridges to trust, respect, appreciate and understand all who live, work, and play in our city.
Explore the event history. 

Vendor Opportunites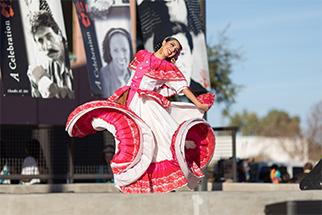 Are you our title sponsor? Would you like visibility at the 25th Annual Chandler Multicultural Festival? Secure your presence. Deadline for applications is Dec. 20, 2019
25th Annual Chandler Multicultural Festival
Saturday, Jan. 18, 2020 | 2–9 p.m.
Downtown Stage | Free Admission
Chandler Multicultural Festival 
Bring your blankets and lawn chairs and join us for an amazing evening featuring two stages packed with lively performances.
Cultural art and food vendors will have items for sale.
Chandler International Film Festival
January 2020 | Various Times & Locations 
Ticketed Events
The CIIF is a diverse and pioneering event dedicated to the advancement of social and cultural awareness through education, delivered on the artistic platform of filmmaking.
CIFF will be screening more than 200 films created by passionate, independent global filmmakers. The five-day event will include a Red Carpet Opening Ceremony, World Premiere Shows, Film-making Workshops, Discussion Panels, a Film Market & Expo and Award Ceremony. 
2019 Multicultural Festival Performers
Arizona Art Academy will be performing excerpts from traditional Peking Opera. It's about the love story between Yang Gui Fei and Tang Ming Huang. The opera will include soloist and group singing. This piece is a great representation of traditional Chinese culture.
Grupo Axé Capoeira of Arizona is well known throughout the state for laboring tirelessly to share the cultural richness of capoeira, sharing a positive message of respect, diversity and community.
What is Capoeira
Capoeira is an Afro-Brazilian martial art developed in the 1500s by African and Indigenous slaves in Brazil as a form of self-defense from their oppressors. It is marked by its agile and tricky movements that may be executed anywhere from an upside-down position to a gravity-defying kick. It has a strong acrobatic component in some styles and is always played with music. 
Bailamos Perú is a dancing group that was established in 2015 with the participation of the international people, the purpose to share our Peruvian culture and dances in Arizona.
Ballet Folklorico Quetzalli-AZ of Chandler, Arizona is a dynamic non-profit dance organization celebrating the colorful tradition of Mexican folkloric dance.  This summer they celebrated their 10th Anniversary. Under the direction of Vanessa Ramirez, the group began as a recreational class at the City of Chandler's Snedigar Recreation Center.  As one of very few East Valley Folklorico groups currently operating, interest in the dance troupe has grown rapidly from just six students in June of 2008 to more than 90 students currently.  Ballet Folklorico Quetzalli-AZ's students range in age from five to adult and enjoy an exciting and fun way to express themselves through dance and learn about Hispanic heritage.
Students learn dances from various regions of Mexico.  Not only do they have fun and get good exercise, but they receive a small history lesson with each dance.  Each month the students are assigned a homework assignment related to the region of Mexico where the dance they are learning originates or of a particular cultural holiday.  Each child shares in class what they've learned in a presentation.  This encourages self-esteem through cultivating public speaking skills as well as the showmanship of performance.  It has been wonderful to observe the growth and confidence that these young children have developed in such a short time. They are truly an inspiration.
The Greater Phoenix Chinese Christian Church Dance Group will be performing a dance titled Peach Flowers Blossom. Located in Chandler the dance group started 15 years ago and has served the community with Chinese folk dances at various festivals, events and venues throughout the greater Phoenix area. We have served at the Chandler Multicultural Festival before and will continue to serve our community especially the City of Chandler. The all-female dance troupe volunteers their services even though they have jobs and families. They just love to dance and serve the community to honor God.
With dancers and singers from various parts of the United States, we are proud to represent many tribes and Nations to show our proud tradition and culture through powwow dancing.
Our mission is to show the positive side of Indian People by showcasing our Native American powwow style of dance. We want to educate the public about the real life of Native Americans by showing our strong value and respect for the drum that has been carried on for many generations. We promote healthy and active lifestyles and encourage all young adults to pursue higher education.
At Indigenous Enterprise we believe in what we call the three p's. First, preservation, which we peruse through teaching. Next, the performance of traditional dance and song. Finally, progression, we understand that culture changes with its people and that we as the Native young bloods of America, we are the pioneers of this cultural movement.
Instituto De Folklor Mexicano is a non-profit organization created to provide an education-based curriculum of Traditional Mexican folklore. Our dance program gives participants from the ages of three and up a sense of pride in our beautiful culture as well as self-esteem, self-confidence and discipline.
Our vision is to expand academic excellence by creating a diverse, dynamic and safe learning environment by personally involving students with quality, up-to-date, and researched repertoire and invested teachers. Providing learning opportunities that will inspire student's creativity and ingenuity of our beautiful Mexican culture.
It is our goal to expand and improve our efforts to preserve our cultural identity, heritage, traditions, and language. To support our dedicated teachers who are committed to each student's success. To continue to create well-rounded dancers who love their culture as much as their passion for the arts.
Jibaros Sin Fronteras originated in Chandler, Arizona in 2004 under the direction of Mr. Luis Vega. The band was originally assembled to perform Christmas family music to celebrate the Holidays. When Mr. Vega left Arizona, the directorship of the band was transferred to Luis (Wilkins) Carmona.
Wilkins kept the band performing for private functions for several years. As the band performed for more and more private functions, it was apparent that the band was expanding, sounding wonderful and needed to start performing as professionals.
Jibaros Sin Fronteras is now a featured Latino Band in the valley and have performed for the Puerto Rican Holiday Dance, for Mas Productions, the Puerto Rican Center Festival and is rapidly filling their schedule with various performance venues in the valley.
Their unique sound is a mix of traditional Afro-Cuban and Caribbean rhythms that include Salsa, Merengues, Guajiras, Guaguanco and Cumbias. This fun and exciting band features great musicianship and vocals delivered with heartfelt performances.
The Qipao show will present the significance of this traditional Chinese dress in this multicultural festival.
The Qipao has a history of more than one hundred years in China. Because the Qipao is elegant and beautiful, a lot of women like to wear this fashionable dress. Since the famous American movie star Elizabeth Taylor used to wear Qipao for some photos, and now young models wear the Qipao in fashion shows around the world, the Qipao is not only loved by Chinese women but now also by women around the world, who have begun to have a strong interest.