The popular Ostrich Festival is part of Chandler's recent history, but it is based on Chandler's colorful early history of ostrich ranching, which included raising these unusual creatures for their stylish and expensive plumes. The festival is produced by the Chandler Chamber of Commerce and takes place at Tumbleweed Park, on the southwest corner of McQueen and Germann roads.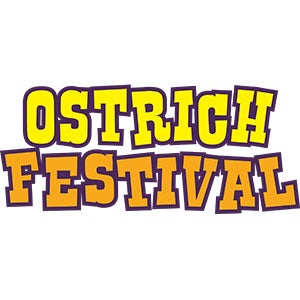 31st Annual Chandler Chamber Ostrich Festival
March 8 - 10, 2019
Tumbleweed Park - 2250 S. McQueen Road

Official Ostrich Festival Website 
Ostrich Festival Kick-Off Weekend
Events Include: Mayor's Fun Run, Festival Parade, Public Safety Day and Car Show
The Chandler Ostrich Festival is owned by the Chandler Chamber of Commerce and produced by Steve LeVine Entertainment in cooperation with the City of Chandler.
Ostrich Festival History
To celebrate this rich history, as well as provide a first-class community event, the Chandler Ostrich Festival began in 1989. The event has grown to become one of the premier festivals in the southwest, with 250,000 to 350,000 people attending the three-day celebration each spring.

The Ostrich Festival is a community family event featuring live ostrich races and ostrich-themed activities, national and regional entertainment, carnival midway, spectacular food, upscale arts & crafts, a Saturday morning parade and much more.

In addition to bringing in nationally known musical groups, the festival also features some of the most popular local and regional talent in the Southwest. There are also performances by dozens of local community groups throughout the weekend performing music, dance, and more.
 
Parade
The Ostrich Festival Parade takes place in Downtown Chandler. Your community organization can participate in the Ostrich Festival Parade by calling the Chandler Chamber of Commerce at 480-963-4571.

The awesome ostrich is also featured in Ostrich Alley where you can purchase ostrich foods, feather dusters, leather goods and other merchandise. See young, live ostriches and emus up close and learn about them from the experts who raise the birds.
 
For more information or questions on any of these three events, please contact the Chandler Chamber of Commerce at 480-963-4571.