The time for fright is in sight. Honor Halloween right with a unique and dazzling drive-thru haunted experience filled with spirited fun. Pile your ghouls and boos of all ages into the car and enjoy Halloween Spooktacular from the comfort of your car as you wind through a decorated cul-da-sac. At every turn, the ghostly route is overflowing with a boo-nanza of spooky shenanigans and scenes that bring your favorite Halloween themes and characters to life. Admission to drive through the event area is free.
Attendees must stay within their vehicles at all times. For the health and safety of the community, no pedestrian traffic is permitted.
Oct. 30, 2020
1 - 9 p.m.
Dr. A.J. Chandler Park: Drive-thru
Free
Contact Us
Costume Contest: VOTE NOW
Voting takes place through 11:59 p.m. on Sunday, Nov. 1. You can vote once per device during the voting period.
We received fa-BOO-lous entries in the 2020 Halloween Spooktacular costume contest, and now it's your turn to vote and decide the winners. From creative to spooky to funny we've narrowed each age category down to the top six finalists. Three winners in each age group will be chosen by you.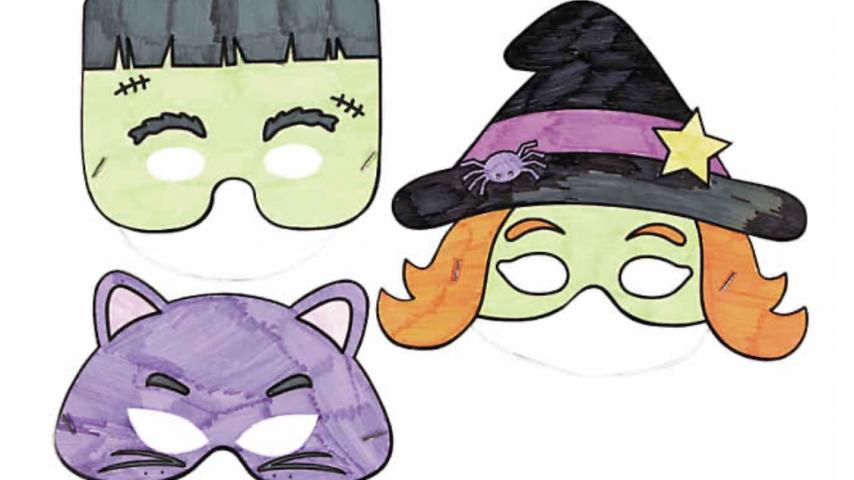 Halloween Masks Coloring Pages
Hide & Eek! Enjoy some spooky mask making fun before Halloween day. Grab your crayons, markers, and glitter to decorate your favorite masks.
Halloween Spooktacular is back in a whole new form. Downtown Chandler is excited to host an all-ages family-friendly drive-thru experience; keeping the fun traditions and excitement of Halloween alive in a safe and engaging event. As you travel along Commonwealth Avenue expect to see some larger than life scenic environments featuring your Halloween favorites, multimedia displays, and live characters. The experience is not scary but can be a little spooky in a few places. There is no age limitation.
Please remain inside your vehicle at all times for your safety and the safety of other patrons. No pedestrian traffic is permitted. Photography is permitted from inside your vehicle.
 
Accessing the Event Area
All vehicles must enter eastbound Chandler Blvd. at Delaware St.

From there the line will go from Delaware St. & Boston St. to Boston St. & Arizona Pl. to enter the event

No left turns will be permitted from Arizona Ave. on Boston St. to Arizona Pl.
All traffic will be one-way
Road Closure
There will be road closure along Arizona Ave. at Boston St. & Buffalo St. to eastbound traffic 

Officers will be in the area to assist and direct traffic
Viewing Sessions
There are three sessions available for viewing: Update: the two Oct. 30 sessions will now run as one continuous session from 1-9 p.m.
Prior to 6 p.m. will not have all the lights and/or features operating since daylight will hinder the visibility of them >> This session is intended for small children who might like the look of Halloween but not the sounds or special effects that make it scary.
If you've got it, haunt it! We're looking for ghouls and boos of all ages who can dress to thrill.
Contest Format
Our annual Costume Contest is virtual
Registration is required
Participation is free
Age and Judging categories remain the same
There is no maximum number of participants per Age or Family/Group Divisions
Registration
Participates must register to be featured in the 2020 Costume Contest
Registration closes on Sunday, Oct. 18 at 11:59 p.m.
Entry Forms must be submitted by an adult at least 18 years of age
Household may submit multiple children, each Entry Form accepts two children per submission
Costume Divisions
All divisions are divided by age and not costume or gender. It is important to note, all costumes will be competing against each other, regardless of the genre or gender.
0-3 Years Old ·
4-5 Years Old
6-7 Years Old
8-10 Years Old
11+ Years Old
Best/Group Family
Contest Rules
All participants must register to enter the contest via the online entry form
Family/Group Division participants must have at least 3 members in their group
Each entry must submit a photo of the participant dressed in their costume
A maximum of two photos per participant can be submitted
All photos must be submitted online in digital format (No larger than 5MB and File forms must be png, jpeg, or jpg)
No prints will be accepted for this contest
Entries must be submitted by the original photographer
Photo must be original, unpublished, and not copyrighted
No businesses or professional photography will be eligible for the contest
All results must remain photo-realistic; we will not accept digitally or otherwise enhanced or altered photos except for cropping, red-eye removal, and adjustment of contrast and brightness
Photographs may be in color or black and white
Inappropriate, violent or obscene images will be disqualified from the contest
No illustrative elements or captions may be added to the photo
Contest Judging
Contestants will be judged on the Creativity, Spooktacular, and Originality of their costumes.
Creativity – use of details, design, and materials
Originality – fresh, new, original concept or idea
Spooktacular – wearability and the participant's portrayal of the costume and/or character; did the costume take time and effort to create
Prizes will be given for 1st, 2nd & 3rd place in an age division
Best Overall prize will be given in the Best Family/Group division
Three rounds of judging will take place in each category
Round 1 will narrow contestants to 20 semifinalists
Round 2 will narrow contestants to the top 6
Round 3 will choose the 1st, 2nd, and 3rd place winners ·
Round 3 will be public voting from Thursday, Oct. 29 through Sunday, Nov. 1 at 11:59 p.m.
Winners will be announced on Monday, Nov. 2