Groove to tunes from a stellar lineup of local and national talent. Each night the main stage culminates with must-see sets by renowned musical legends.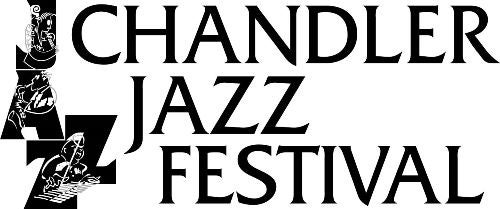 Friday, April 5 and Saturday, April 6
Dr. A.J. Chandler Park - Stage Plaza
178 E. Commonwealth Ave
Free Admission
Friday, April 5
Main Stage
5 p.m.          Innocent Joe and the Hostile Witnesses
6:15 p.m.    Bluesman Mike & The Blues
                     Review Band
7:30 p.m.    Bluesmen with Diva Missie featuring                               Geo Bowman
9 p.m.         Bob Fahey
Merchant Bands
9 p.m.-12 a.m.
After Hours Jam Session:     
Hosted by Arizona Avenue Band - West Alley BBQ
Saturday, April 6
Main Stage
5 p.m.          Gaines Brothers Jazz Quintet
6:15 p.m.     Running From Bears Plays SuperSax
7:30 p.m.     Dizzy Gillespie All-Stars with Jon Faddis
9:15 p.m.     Carmela y Mas
Sidewalk Bands
All Bands Perform 2-4:30 p.m.
Pam Morita Duo -  Even Stevens/Shoe Thrill
Mike Ozuna Trio -  Saba's Western Wear
Brett Reid Trio -  Sibley's West
Beth Lederman Trio -  El Zocalos
Tony Vacca Trio - Dr. AJ Chandler Park - West
Merchant Bands
2-4 p.m.
Chandler High Jazz Ensemble - West Alley BBQ
9 p.m.-12 a.m.
After Hours Jam Session:     
Hosted by The Dave Henning Trio - West Alley BBQ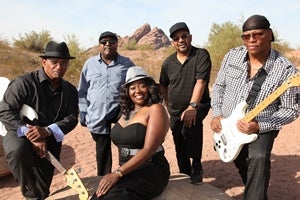 Performs:  Friday, April 5 at 6:15 p.m.
Bio:  The Blues Review Band was formed out of Bluesman Mike's passion for the Blues. In New Year of 2007 he decided to go back to his roots by spending his birthday gift on a bass guitar and soon started jamming with a great friend and co-founder of the band, Doug Hill. It was one of those evenings while they were jamming that they decided to form The Blues Review Band. The 1storiginal members were Scott Stuk (Drums), AviEdelson(Keyboard), Doug Hill (Lead Guitar) and Bluesman Mike on vocals and bass. Soon they're all over the valley doing their love and passion –playing the blues and becoming one of the hottest blues band out! They had a blast playing all over town but Scott had to go to college and their full time jobs required both Doug and Avito leave the band.
Now Bluesman Mike is jamming and doing gigs with Rob Thompson on keyboards, who also had performed with national act Bobby Womack, along with his new lead guitar player, Sugar Bear –another veteran from Philadelphia who had performed with Billy Paul, with Tim Robinson on drums who had performed with Koko Taylor, and the band's latest addition JijjyVon, female vocalist and saxmanTony Mockridge.
The Blues Review Band currently has (2) CDs, the 1stbeing Blues For The Road and the 2nd, Mo' Blues.
Performs:  Friday, April 5 at 7:30 p.m.
Band Members:  The band consists of Missie Reborn, Jimmy Boyd, Tom Labieniec, Alex Holland, Dominic Therrien, Kent Stallard and Tim Robinson.
Bio:  George Bowman was born on December 4th in Edwards, Mississippi, east of Jackson. Although this area is a hot bed of Blues culture, and Geo sang in the church choir as a boy, music became important in his life only after his family relocated to Phoenix in 1965.
1960s As chance would have it, Geo met Arlester Chris􀀂an, who was also known as Dyke of Dyke and the Blazers, the hottest R&B band on the Phoenix scene in the late 1960s. Geo became friends with Dyke, and was invited to a few of the band's gigs at a club called Swing City. That experience inspired Geo to become a professional R&B singer. He befriended a couple of other local musicians and formed a band called Memphis Soul. The band enjoyed great popularity for years, opening for top artists like Buddy Miles, Tommy James, Taj Mahal, and Dr. Hook. Recently Numero Group, an archival label from Chicago, re-released a Geo Bowman composition, "Don't Down Me People".
1970s In the mid 1970s, Geo was the lead singer for the bands Soul on Ice and Everyday People, where he developed project􀀂on and delivery that defines a great vocalist. Tragically, his mother passed away in 1996 and Geo gave up his music.
1990s Geo returned to music and won the Arizona Blues Showdown in 1999. This annual event sponsored by the Arizona Blues Society seeks the best blues bands in Arizona to compete for a chance to represent the state at the International Blues Challenge, held each year in Memphis; it was here that he opened for Charles Brown at the Saturday Night Dance Party, a post-Blues Blast event.
2000s Geo focused his attention on songwritng. In 2002, he released his first album of all original music, Feel Sorry for the Next Man. Released in 2004, Hoochie Coochie furthers this trend of original compositions. In 2006, Geo Bowman was inducted into the Arizona Blues Hall of Fame. He continued performing with various local artists, and organizing fundraising events for other musicians down on their luck.
2010s In 2010, Geo created the Baddboyz Bluez Band and was featured in the 2011 Phoenix Blues Blast and the 2011 Glendale Jazz and Blues Festival. Geo released his third solo album, All I Wanna Do (sing the blues) and is currently working on his fourth album. In 2016 Geo formed his current band, Rhythm & Bluesmen with Geo and is playing to excited crowds locally with a blend of blues and rhythm and blues cover songs and original songs.
Official Web Site:  robertfahey.net
Performs:  Friday, April 5 at 9 p.m.
Bio: Robert Kaleopu'uwai (Bob) Fahey, when not on the road, divides his time between O'ahu Hawai'i & the Black Hills of South Dakota. He started playing guitar at the age of 12. Bob spent 15 years on the road with various touring rock bands before returning to the Black Hills in 1989 to raise a family. For the next twelve years Bob's smoldering vocals and searing slide guitar were a driving force behind one of Rapid City's most popular bands, "The Suspects." Bob has opened up for various artists including Albert King, The Doobie Brothers, Tommy Bolin, The Allman Brothers, Alice Cooper, Roy Rogers and Little Feat. He has been featured on PBS backing up A.C. Reed. Performing in venues from coffee houses, Fine Arts Centers & Arenas to the World Famous Buffalo Chip Campgroud. He describes his music as "contemporary blues" and has been influenced by such artists as J.J. Cale, Keb Mo', Roy Rogers (Blues Guitarist).Robert Cray, and Robert Johnson. Bob is most notably known as a Blues/Americana Solo Artist. But, he is often working with other players from a duo format to a 9 piece band with horns. One of his favorite groups to perform with is Tres Guitarras. A trio that performs in the Phoenix Arizona area fusing three guitars styles together, Flamenco (Chris Burton Jacome'), Jazz (Stan Sorenson) & Blues (Bob Fahey). Bob currently records out of Will Wallers Sanctuary Studio in the Black Hills.
Official Web Site:  carmelaramirez.com
Performs:  Saturday, April 6 at 9:15 p.m.
Bio: The electrifying sound of Carmela y Más is created by an eight-piece Latin Jazz-Salsa ensemble. Carmela Ramirez, vocalist and producer leads this award-winning band. The band concept was developed in 1988. Carmela had performed R & B. Fusion and Jazz for a decade, when she ventured into another format of Jazz, "LATIN JAZZ and SALSA". The attraction was the complexities of the rhythms and arrangements. There was also an array of Jazz Artists such as Dizzy Gillespie who had taken classic Jazz and intertwined Afro-Cuban rhythms into them, turning them into Latin Jazz. Therefore, Carmela dove into her next style of music and Carmela y Más was born. From the beginning concert at Scottsdale Center for the Arts and the hundreds of performances that followed, the band took off and has been recognized as one of the leading performance bands in the valley and beyond.
Carmela's versions of Más have not only been featured in local venues and festivals in the valley, but also traveled to be featured at the National Museum for Women in the Arts in Washington D.C., the Himeji Castle 100th anniversary concert in Himeji, Japan and most recently the headliner for the Latin Jazz Festival in Puerto Peñasco, Mexico. The band has also shared the stage with Arturo Sandoval, Paquito D'Rivera, Tito Puente, Nestor Torres and many more Latin performers.
The musicians in the band are dedicated to the Latin Jazz artform and spend quite a bit of time on perfecting the true sound and execution of the music. The arrangements you'll hear are one of a kind, written either by Más band Musical Director, Rebecca Kennell or arrangers who have written for Carmela over the years, including Carlos Luna, Jules Rowell and Auggie Mendoza.
Official Web Site:  dizzygillespie.org
Performs:  Saturday, April 6 at 7:30 p.m.
Bio:  For Dizzy Gillespie, playing in a small combo was never enough. His artistry compelled him to seek and to create larger ensembles because as a composer and arranger, a big band was the ultimate vehicle for self-expression. Given that the majority of his career took place after 1950 when the big band era was over, it's especially notable that Dizzy Gillespie continued to create brilliant music using the grand-scale formats of jazz big band and orchestra right up to the end of his life in 1993.
The Dizzy Gillespie All-Star Bands are direct descendants of these ventures and happily, the tradition lives on. Nurtured by Gillespie alumnus, executive director and producer, bassist John Lee. Together they continue to delight audiences around the world with the enduring power and freshness of Dizzy Gillespie's music. This is the legacy the master would have wanted—and a living tribute from the many extraordinary musicians in this group who exemplify his style, range, passion, and commitment.
The Dizzy Gillespie All-Stars debuted in 1996, the Dizzy Gillespie All-Star Big Band in 1998, and the latest venture celebrating Dizzy Gillespie's music debuted in the fall of 2012, the Dizzy Gillespie Afro-Cuban Experience.
The All-Star Bands feature some of Dizzy's close compatriots: senior statesmen and NEA Jazz Master Jimmy Heath, as well as veteran Gillespie alumni Tommy Campbell, Cyrus Chestnut, Antonio Hart, Roy Hargrove, Lewis Nash, Claudio Roditi, and Douglas Purviance. The bands also feature some of the fastest rising next generation talents in jazz today including vocalist Roberta Gambarini, saxophonists Eric Alexander, Frank Basile, Sharel Cassity, Mark Gross, Bobby Lavell, and Gary Smulyan. Trombonists Steve Davis, Jason Jackson, and Ron Wilkins. Trumpeters Freddie Hendrix, Terell Stafford, Greg Gisbert, Frank Greene, and Diego Urcola. All of them band leaders and recording artists in their own right.
Executive director John Lee had a close association with Dizzy, serving as his bassist for the last decade of Dizzy's life, in his small groups as well as the Grammy Award winning United Nation Orchestra and Dizzy's 70th Anniversary Big Band. Lee also originated and directs "Dizzy: The Man and The Music", the official concert and clinic program celebrating the life and work of Dizzy. The Dizzy Gillespie All-Star Band's have recorded five critically acclaimed CDs: "Dizzy's 80th Birthday Celebration" (Shanachie), "Dizzy's World" (Shanachie), "Things to Come" (MCG Jazz), "Dizzy's Business" (MCG Jazz), and "I'm Beboppin Too" (Halfnote).
The Dizzy Gillespie All-Star Band's have performed at major concert halls and music festivals in North America including; Boston Symphony Hall, Massachusetts' Tanglewood Music Center, the Hollywood Bowl in Los Angeles, Chicago's Ravinia, Washington, DC's John F. Kennedy Center for the Performing Arts, New York State's Saratoga Springs, Philadelphia's Kimmel Center, the Walt Disney Concert Hall in Los Angeles, CA, the Orange County Performing Arts Center in Costa Mesa, CA, Detroit's Symphony Hall, Denver's Newman Center and Boettcher Concert Hall, Vancouver's Chan Center, Cleveland Symphony Hall, New York 's Lincoln Center, and the Manchester Craftsmen's Guild in Pittsburgh, Pa.
The All-Star Band's have also played major concert halls and jazz festivals in Australia, Austria, Aruba, Belgium, Bulgaria, Canada, Croatia, Curacao, England, Finland, France, Germany, Holland, Italy, Japan, Korea, Latvia, Lebanon, Luxembourg, Monaco, Morocco, Norway, Portugal, Russia, Scotland, Serbia, Singapore, Slovenia, Spain, Sweden, Switzerland, Taiwan, Thailand, Turkey, Uruguay, and Wales.
The Dizzy Gillespie All-Star Band's musical home would have to be New York's famed Bluenote Jazz Club, which was for many years Dizzy's favorite jazz club not only in New York City but in the world. The All-Star Big Band performs there for a week every summer, and Dizzy's birthday is celebrated for a week every fall, usually during the week that includes October 21st, the master's birthday. The birthday celebration features the All-Stars, and special guests. The Afro-Cuban Experience performs during the Bluenote Jazz Festival every spring, and throughout the year.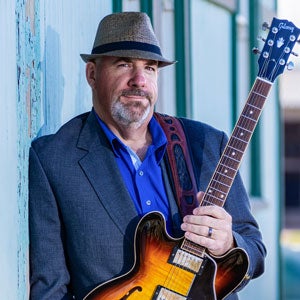 Official Web Site:  joekopicki.com
Performs:  Friday, April 5 at 5 p.m.
Bio:  Joe "Innocent Joe" Kopicki, entertained audiences in and around his hometown of Scranton Pennsylvania for many years. Working as a solo artist, band member and fronting his own band.  Playing stages both large and small.
His first love is the blues, and he is known for being a blues performer with a soulful voice and authentic blues guitar chops. Whether it is cover of a classic song or an original tune, he delivers it from the heart and in his own style, never looking to imitate but always paying homage to the great artist that inspire him. Influences of Jazz, Rhythm and Blues, Country and Classic Rock can be heard in his style.     
Northeast to southwest was not only a physical relocation for Joe, it was the title of his 2017 release of original music. In 2018 Joe introduced himself to the Phoenix Blues community by competing in the Arizona Blues Showdown.  He took 2nd place in a field of strong performers.
2019 is shaping up to be a busy year. Aside from regular performances as a solo artist, Joe has been lighting things up with his band, Innocent Joe and the Hostile Witnesses.
Performs:  Saturday, April 6 at 6:15 p.m.  
Band Members: Eric Rasmussen – alto saxophone, Adam Roberts – tenor and soprano saxophones, Keith Kell – tenor and baritone saxophones, Jeff Libman – guitar, Ryan Anthony – drums
Special Guests: Vincent Thiefain – bass, Chaz Martineau – tenor saxophone, Cody Phillips – alto saxophone
Bio: Running From Bears is an adventurous Phoenix-based jazz sextet. Formed in 2007, the group is primarily committed to the composition and performance original works, along with the occasional reworking of popular songs. Each player/composer has a different compositional and improvisatory voice, yielding a forward-thinking and diverse group sound. Running From Bears is in its 12th year of a residency at The Lost Leaf in downtown Phoenix. The group can also be seen at other Phoenix area venues and festivals, such as The Nash, The Rhythm Room, the Tempe Festival of the Arts, and the Highland/ASU Jazz Festival. The group has released two albums, Running From Bears (2013) and Maul of America (2017).
Sidewalk and Merchant Bands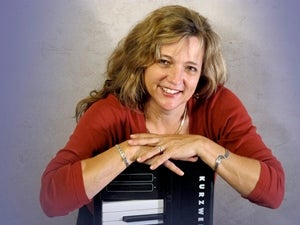 Performs:  2-4:30 p.m.
Merchant Location:  El Zocalos
Official Web Site: www.bethlederman.com
Bio:  Bandleader Beth Lederman (keyboards) is a mainstay in the Phoenix jazz scene. Her influences and experiences are widely spread across many different musical styles. No matter what she is playing, her musicality and spirit of improvisation always shine through. Joining her on sax is Mary Petrich.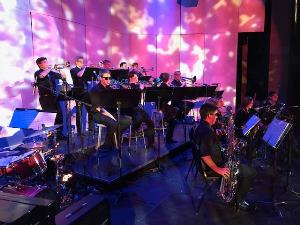 Performs:  2-4:30 p.m.
Merchant Location:  West Alley BBQ
Bio:  Jazz Band provides students the opportunity to study and perform music of the "Big Bands" from the 1920's to the present.The emphasis in this group is to perform the different styles of music(swing, rock, blues, popular) with understanding.
Performs:  2-4:30 p.m.
Merchant Location:  Even Stevens/Shoe Thrill
Official Web Site: www.pammorita.com
Bio: Pam Morita got hit with the jazz bug as a graduate classical piano student when she heard Joe Williams sing with the Count Basie Band at the University of Illinois at Urbana-Champaign. The band swung so hard that it influenced Pam to pursue a career in jazz piano and voice. At that moment she knew she had to play jazz!
A professional pianist/singer in Chicago since 1980, Pam played at the Drake Hotel, Park Hyatt Hotel, the Fairmont, the Palmer House as well as well-known jazz clubs as Andy and the Green Mill. In 1985 she traveled to Sweden where she played/sang in clubs around the country as well as onboard the Silja Line Cruise Boat, which sailed between Helsinki and Stockholm. In 1994, she moved to Norway where she met such Swedish jazz artists as Ronnie Gardiner and Johan Setterlind who recorded her first CD, "Strings that" with her. She also met Doris Spears, a jazz singer from New Jersey, who collaborated with Pam to record her CD, "The Duchess". They did a musical tour together traveling throughout Scandinavia.
In 2000, Pam moved to Phoenix primarily because her parents lived there. Since moving to the Valley, she has played in the C.C. Jones Orchestra and performed with such musicians as Dennis Rowlands, Sherry Roberson, Felix Sainz, Dennis Sexton, Dom Moio, Dan Tomlinson, Bob Lashier, Paul-Eirik Melhus, Richard Palalay, Andy Gross, Mary Petrich, and Adam Roberts. Pam's repertoire consists of jazz standards, pop, originals, and classical music.  

Presently, Pam teaches Jazz Piano and Jazz Chamber Ensemble at Paradise Valley Community College and was an Adjunct Professor at Mesa Community College teaching Class Piano. She is currently the new Director of City Jazz, a youth program for teens ages 12 - 19 where they learn to play jazz in a small ensemble.
Pam was a Nordstrom pianist for 5 years (as a soloist and with trios), and has played at the Top of the Rock Restaurant, Glendale Gaslight Inn, the Estate House, Cartwright, Chandler Jazz Festival, 98 South, the Phoenix Music Festival, the Borgata, the Phoenician, the Biltmore, West Valley Art Museum, Scottsdale Artwalk, and the Kerr Cultural Center. In 2004, she started a jazz jam session for kids where professionals and youngsters could play together. "Pam Jam" started at Barwinkles and ended at the Glendale Library, a span of 2 years. And presently, Pam is the pianist for the Unity Church of Sun City.
Pam Morita received her bachelor's and master's degrees from the University of Illinois in Urbana-Champaign in piano performance. She has taught both jazz and classical piano for many years and works with jazz ensembles at high schools in Glendale.
Some of her favorite artists are Herbie Hancock, Bobby McFerrin, Yo Yo Ma, Sting, Chick Corea, Joni Mitchell, Eric Harlan, Stevie Wonder, Taylor Eigsti, Bette Midler, Chris Potter, and Kenny Baron.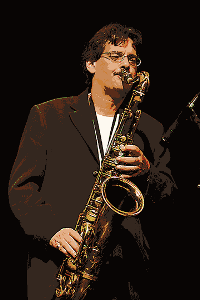 Performs:  2-4:30 p.m.
Merchant Location:  Dr. AJ Chandler Park - West
Bio:  A native of New Jersey, Tony Vacca began his professional career at the age of seven performing in the family band and continued throughout his teenage years playing sax and keyboards. Mr. Vacca received his formal training at Arizona State University's jazz department under the direction of Dan Hearle, Tom Ferguson and Chuck Marohnic and went on to perform and teach in the Phoenix area for the next several years. In 1982, Tony moved to Chicago, where he spent the next sixteen years as a highly regarded professional musician and educator. In 1998, Tony returned to the Phoenix metro area to serve on the faculty at Scottsdale Community College, where he has taught courses in jazz theory and improvisation, jazz and rock history, as well as directing ensembles both large and small.
Over the course of his prestigious career, Tony has performed and recorded with such jazz legends as Lionel Hampton, Sammy Davis, Jr., Richie Cole, Conti Candoli, Irvin Mayfield, Jon Faddis, The Four Tops, Sam Moore, The Temptations, Tony Bennett, Frank Foster, Marvin Stamm, and Doc Severinsen to name just a few. Mr. Vacca holds a B.A. from Northeastern Illinois University and Masters in Jazz Education from Arizona State University. He was a featured soloist with both the Bob Stone and Rob Parton Big Bands and can be heard on Parton's first release, Rob Parton's Jazz Tech Big Band, on the Sea Breeze label.
Tony's first book, Improv Made Easy, is published by Houston Publishing and distributed by Hal Leonard Publishing and is currently available in music stores worldwide. As an established artist, Tony's debut CD release, Three Point Landing, released in 2001 and co-produced by Grammy nominated Irvin Mayfield, received rave reviews around the globe as "thoughtful, demure, straightahead post-bop." Released on Half Note Records, the official label for the world famous Blue Note Jazz Clubs, Three Point Landing was voted one of the five best Arizona CDs by Phoenix Magazine in 2013. A busy clinician and educator, he has been a faculty member of the Jamey Aebersold summer jazz camps, as well as the Sedona Jazz On The Rocks Youth Program, the Chandler Jazz Youth Program and the Prescott Jazz Summit Master class programs. Since 2005, Tony has been a member of the Prescott Jazz Summit and has appeared there every year as a part of the Prescott Jazz Summit All Stars in addition to being a member the Mike Vax Quintet.
Most recently, Tony has been the headliner at the new "Jazz at the Mansion" jazz series at the Wrigley Mansion in Phoenix. Appearing every Thursday, Friday and Sunday, he performs with a variety of outstanding local pianists including Judy Roberts, Nicole Pesce and Nick Manson.
Performs:  9 p.m. to Midnight
Merchant Location:  West Alley BBQ
Bio:  Arizona Avenue is a 4 piece band located in Chandler Arizona. Led by 2015 Maryland Entertainment Hall of Fame inductee Ron Daughton who brings 30 years of professional experience. Steve McDaniel, Mike Sickle and Michael Hutchinson round out the on stage performers. AZ Ave promises a great trip down memory lane through songs that shaped your youth! All of your Classic Rock and Motown favorites from the Beatles to the Temptations and everyone in between. You can't help but sing along to these top ten chart toppers!
Performs:  9 p.m. to Midnight
Merchant Location:  West Alley BBQ
Official Web Site: www.davehenning.com
Bio: Dave Henning grew up playing trumpet and piano in the Detroit area, but moved to Cleveland for college when he was offered a full scholarship to the joint music program between Case Western Reserve University and The Cleveland Institute of Music.  While at Case, his focus shifted from trumpet to piano and his education shifted from the classroom to the jazz clubs of the Cleveland music scene.  By the time he was in his early twenties, he was one of the busiest pianists in Cleveland. 

After moving to Arizona in 1997, Dave started working immediately and quickly became a regular on the Phoenix scene.  Now, he is often seen leading his own projects and working as a sideman with some of the Valley's best-known performers.  Some of his current projects include Jazz Express, Sonoran Serenade, Bones Southwest, and Fire and Rain.  Henning has also become a fixture at Phoenix's premier jazz club, The Nash, where he has been a headliner, a sideman, and a regular leader of the jam session.  Whether it's a jazz trio, a big band, or a salsa group, Dave is likely to be the one behind the keys.