No bunny does Easter like Chandler's Family Easter Celebration.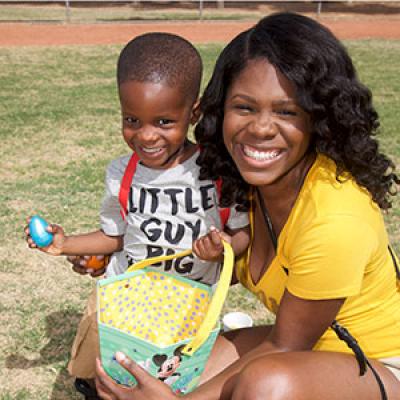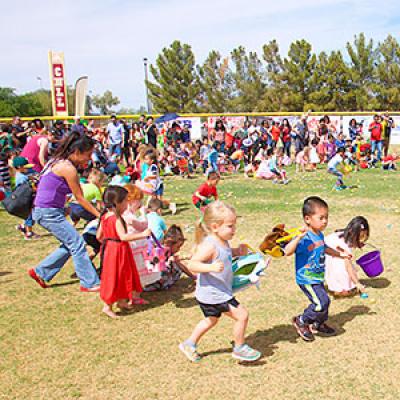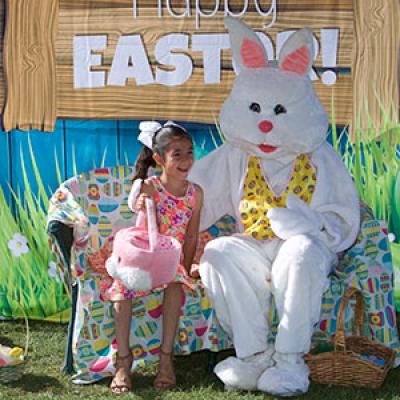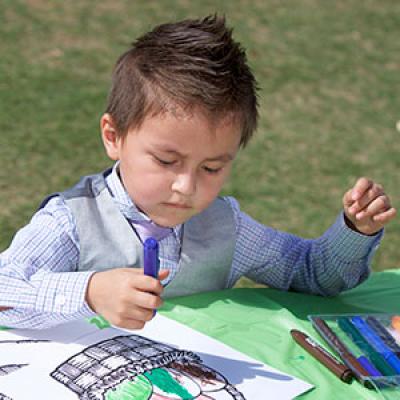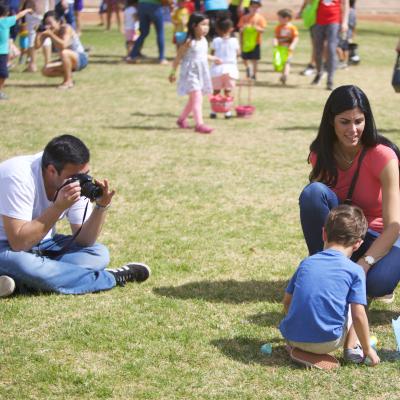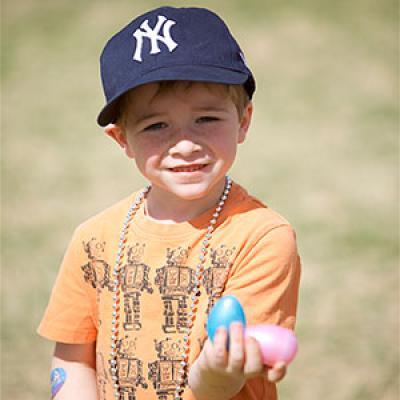 Hop along our 24 Karrot Trail - no more dashing - collecting hidden eggs and goodies along the way. Find a "Golden Karrot" and win an egg-citing prize. Make sure to bring your basket. Trails are open to little bunnies up to nine years of age. The morning will also be hopping with crafts, face painting, amusements, live performances and egg-citement for all.
Minimal charges for some interactive children's activities and photos with the Easter Bunny. Also available for purchase are food and beverages. Please note, this is a cash-only event. 
 
Entertainment Schedule
9:15 a.m.                     Coloring Contest Winners Announced
9:25-9:45 a.m.            Kyrene del Pueblo Middle School Choir
10-10:20 a.m.             Starz in Motion Dance School
10:40-11a.m.              Company B Singers
11:10 a.m.                   Family Easter Basket Giveaway Announced
11:20-11:40 a.m.        Desert Star Dance

- Inflatable Bouncer wristbands available at the event:
Unlimited Use Wristband $10.00 per person
$1 per Ticket, sold separately
Bouncers/Games range from $1 to $5 per use
Activities Include - TBA
- Easter Bunny Pictures by the Mayor's Youth Commission for $3
- Face Painting by the Mayor's Youth Commission for $2
- Carnival Games with a chance to win a prize
- Take-Home Crafts
- Food Vendors
- Merchandise/Informational Vendors
Interested in participating as a performer during the 2020 Family Easter Celebration? Fill out the Stage Performer Application and mail, fax or email the completed application.
Mail: Attn: Annette Watson, PO Box 4008, MS 500, Chandler, AZ 85244
Fax: 480-782-2713
No-bunny does Easter like Chandler's Family Easter Celebration. Hop along our new 24 Karrot Trail - no more dashing or rushing. Collect hidden eggs and goodies along the way. Make sure to bring your basket!
- It's FREE
- Open the entire event, 9 a.m. - Noon, or once all of the eggs have been collected
- Bunnies (kids) 9 years old and younger hop through the trails to collect eggs filled with goodies
- Spring your way through the treasures of the eggs to find a "Golden Karrot" and win a special prize
- All of the eggs will have a piece of candy or a toy inside 
- Limit of 10 eggs per bunny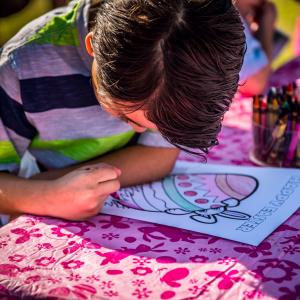 We're on the hunt for the Valley's most egg-cellent artist! Gather your crayons, markers, and glitter and download this year's coloring page. The contest is open to all children up to 9 years of age. Get hopping coloring contest ends April 3.
Download Coloring Page

Contest winners will be chosen from each of the following age categories:
- 2 years and under
- 3-4 years
- 5-6 years
- 7-9 years

9:15 a.m. Announcement of Coloring Contest Winners at Stage
Visit the Information Booth to enter to win the Family Easter Basket. One ticket per family member. The winner will be drawn at 11:10 a.m. and must be present to win.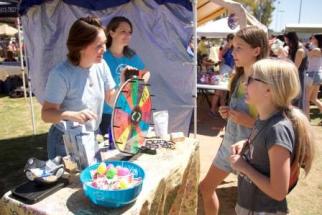 Interested in becoming a vendor at this year's Family Easter Celebration? Potential vendors will need to review the Vendor Information Sheet and complete the Vendor Application. The City of Chandler prides itself on having vendors at our events that represent the concept of the event and the vast diversity of what the City has to offer. Vendors will be accepted based on these criteria.  
Application Deadlines
Vendor Priority Application deadline is Friday, Dec. 27, 2019. Vendor priority applies to any vendor that has participated in last year's Family Easter Celebration.
General Vendor Application deadline is Friday, Feb. 28, or when all space has been reserved.
New organization applications will be accepted on a first come, first serve basis once the priority deadline has expired. You are encouraged to submit an application prior to the vendor priority deadline as applications will be held in the order in which they are received.
Application
Be sure to review the Vendor Information Sheet before submitting your application. Applications are accepted via email or online.
For more information on becoming a vendor or questions regarding the application process, please email or call (480) 782-2669.
The Family Easter Celebration is always seeking interested business or organization who want to sponsor this year's event. Potential sponsors may review our 2017-2018 sponsorship package, call 480-782-2665 or email Hermelinda.Llamas@chandleraz.gov with any questions or interest.

For questions or additional information about the event, please call 480-782-2669 or email.
The Snedigar Sportsplex is at 4500 S. Alma School Rd., which is south of Ocotillo Road.
Chandler Special Events Hotline 480-782-2735
ADA AccessibilityThe City of Chandler welcomes participation from all of its citizens. To request an accommodation due to a disability please allow at five (5) days prior to the scheduled event. Contact the City's Special Event Coordinator at 480-782-2665 (or 711 via AZ Relay Service).