The City of Chandler invites you and your family to celebrate the holiday season at this bright and festive celebration!
December 7, 2019
Event Festivities - 4:30 - 9 p.m.
Tree Lighting Ceremony - approx. 8 p.m.
Free Admission
Tumbleweed Tree Family Photos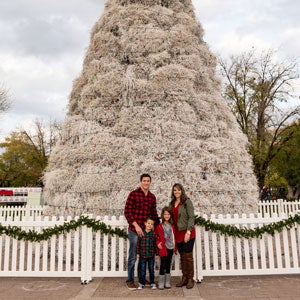 Have you spent time rocking around the Tumbleweed Tree? Scroll through our snapshots to download your free family photo. 
Santa's House
Partnership with the Chandler Lions Club
Did you hear that Santa Claus is coming to Chandler?
You can meet him and get your picture taken with him for FREE!
Santa's House will be CLOSED from 6:30 to 8 p.m. while Santa is in the Parade of Lights

Santa's Workshop
Santa is indeed coming to town and he's hosting a whimsical workshop. Little elves (and big ones too) can have some yule-tide fun as you make handmade holiday ornaments.A variety of ornaments available for kids of all ages.

Letters to Santa
Need to get your letter to Santa? The Tumbleweed Tree Lighting has a direct line to the jolly man himself. Kids of all ages can decorate and write wish lists. Remember he's checking his list twice, so you'll want to highlight how you've been nice! Letters can be mailed by placing them in Santa's mailbox.
Chandler Fire Department Toy Drive
Come assist our brave fire fighters in spreading the holiday cheer to the community by donating a new toy for a deserving boy or girl.  Each year, the Chandler Fire Department collects new and unwrapped toys for kids from newborn to 18 years old.  They will distribute over 4,500 toys to the community during the holidays.  Help the community by donating toys such as bikes, scooters, sports equipment, hot wheels, electronic games, learning toys, books, etc...all new toys will be happily accepted.  Drop by the Chandler Fire Department Fire Truck during the event to drop off your donated toy!
Laser Tag
Tag you're it! Drop by and play a free session of glow in the dark laser tag alongside family and friends. Laser tag is open to players of all ages.
Pony Rides
Giddy-Up! Little buckaroos can saddle up and enjoy free, friendly pony rides in the heart of Downtown Chandler.
Inflatable Bouncer Area
Play your way through giant inflatables that bounce, bump and slide you all over the place. Activities and games are provided by Extreme Events. Wristbands to enjoy all these attractions are $9 per band.
Guests attending the event are strongly encouraged to carpool and arrive early to find parking. There are several locations to park at throughout the Downtown area. Please visit the parade overview map to see these exact locations. Suggested routes to access each parking site is also listed.
 
Parking Locations
P1 - City Downtown Parking Garage
Enter Structure from Chandler Blvd. & California St. to Buffalo St.
P2 – Street Parking
Enter area from Dakota St. from Boston St. & Buffalo St.
San Marcos Place will be closed from 7-8: 30 p.m. between Commonwealth Ave & Buffalo St.
P5 - Site 6 East Side Parking Lot
Enter Lot from Frye Rd. & Oregon St., make right onto Chicago St., lot on the left-hand side
P6 - City Hall Parking Garage
Enter Structure from Frye Rd. & Washington St.
P7 – San Tan Regional Court Surface Parking Lot
Enter lot from Dakota St. & Chicago St.
P8 – San Tan Regional Court Surface Parking Lot
Enter lot from Frye Rd.
P9 – City Surface Parking Lot
Enter lot from Dakota St. & Chicago St.
P10 – City Police Department Surface Parking Lot
Enter lot from Dakota St. & Chicago St.
P11 - First Credit Union Parking Structure
Enter Structure from Chandler Blvd. to Delaware St. & Boston St.
P12 - Downtown Library Parking Lots
Enter Lot from Chandler Blvd. to Delaware St. & Boston St.
P13 - Ports America Parking Structure
Enter Structure from Chandler Blvd. & either Washington St. or Colorado St.
P14 - Site 7
Enter Lot from East Bound Chandler Blvd. & Washington St., make right into the lot
Supplemental Parking Locations
Additional parking may be available in these locations. Please follow all traffic laws when crossing all streets to get to the event area.

Folley Park - Map
*Enter from McQueen Rd. and Frye Rd. or Pecos Rd. and Hamilton St.
 
Please Be Aware of the Following Closures:
Arizona Ave. will be closed from Chandler Blvd. to Pecos Rd. from approximately 2:30-10 p.m.
Arizona Ave. will be closed from Chandler Blvd. to Galveston from approximately 6:30-9:30 p.m.
Fry Rd. will be closed at Arizona Ave. from 6:30 p.m. to approximately 8 p.m.
Chandler Blvd. will be closed at Arizona Ave. from 6:50 p.m. to approximately 8:30 p.m.
4:30-4:50 p.m.   Arizona Dance Studio
5-5:20 p.m.         Royal Impact Cheer & Dance
5:30-5:50 p.m.   Mesquite High School
6-6:20 p.m.         Chandler Symphony Brass Plus 1
8:15-9 p.m.         Chandler Gilbert Community College
Interested in participating as a performer during the 2019  Tumbleweed Tree Lighting and Parade of Lights? Fill out the Stage Performer Application and mail, fax or email the completed application.
Mail: Attn: Annette Watson, PO Box 4008, MS 500, Chandler, AZ 85244
Fax: 480-782-2713
Email: special.events@chandleraz.gov
Applications are no longer being accepted. Please check back in September 2019 for the 2019 Tree Lighting Vendor application.
Tumbleweed Tree Lighting is continually seeking interested individuals, organizations and companies who want to sponsor our great festival with either in-kind services or monetary donations. The benefits of being a sponsor range from on-stage logo recognition and announcements during the festival to name and/or logo recognition on flyers, posters, postcards, websites, press releases, festival program, and much more. Benefits vary based on sponsorship levels. For more information on becoming a sponsor, please call 480-782-2665, email Hermelinda.Llamas @chandleraz.gov.
 
Are you interested in volunteering? We have a great opportunity for anyone who needs community service hours or just want to help out a great event. Volunteer opportunities range from setting up, parade banner holder, activity booths or helping guests with event information.
A Community Tradition
This unique Chandler tradition began in 1957, when Chandler resident Earl Barnum raised the idea of a tumbleweed tree after he saw a similar one in Indiana built out of cone-shaped chicken wire with pine boughs stuck in the holes. Many members of the community helped create the first tree in Chandler using tumbleweeds that they gathered from around town. Little did these folks know that they were the first to do such a thing and that it would continue as an annual Christmas tradition from then on. In fact, Chandler is the only city in the southwestern United States that has such a tree.
How is It Done?

First, members of the City's Park Operations Division gather tumbleweeds from the outskirts of the City. With Chandler's rapid growth and development, fewer stretches of empty land are within the City limits, which makes it harder to find tumbleweeds in large quantities. So, the Park crews must start collecting the tumbleweeds earlier each year. Nearly 1,000 tumbling tumbleweeds are collected each year and are used to adorn a 25-foot tall wire frame. Then, the tumbleweeds are sprayed with 25 gallons of white paint, 20 gallons of flame retardant and dusted with 65 pounds of glitter. The tree is later adorned with approximately 1,200 holiday lights that give it a spectacular look, day or night. The lighting of the Tumbleweed Tree draws a large crowd, with more than 12,000 expected to watch the Mayor and members of the City Council flip the switch to light this magnificent sight. The Tumbleweed Tree Lighting Ceremony and the Parade of Lights (starting at 7 p.m.) help to bring our community together to kick-off the holidays.
For more information or questions about this event, please email or call 480-782-2669.
Chandler Special Events Hotline
480-782-2735
ADA Accessibility
The City of Chandler welcomes participation from all of its citizens. To request an accommodation due to a disability please allow at five (5) days prior to the scheduled event. Contact the City's Special Event Coordinator at 480-782-2665 (or 711 via AZ Relay Service) or special.events@chandleraz.gov.