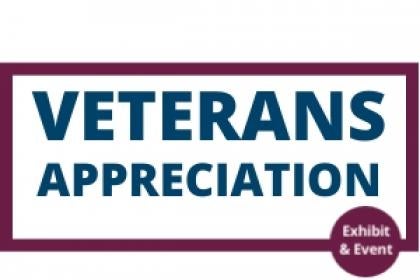 An event to honor our Veterans, provide access to resources and businesses and organizations that specialize in Veterans services/products, and to offer the general public a glimpse into the life of an American soldier and those who provided humanitarian aid.
The event is made possible through a collaboration with the Salvation Army, Chandler Museum, Chandler Diversity. In addition to the exhibit and appreciation event, the White House will issue the 67th Annual National Salvation Army Week proclamation on May 18, 2020.
Please note: The original event was scheduled to be held at the Chandler Museum, and has since been transitioned to a video that will be released on Monday, May 25 at 10 a.m. on the City's Facebook page. You can also view it below.
About the Video Event
Monday, May 25 | 10 a.m. | Released on Facebook
In honor of our fallen veterans, the City of Chandler's Diversity Office and the Chandler Museum, in partnership with the Salvation Army created a 30-minute video that documents the community's history of military service. The video showcases two veteran-themed exhibits on display at Chandler Museum, personal interviews with three Chandler veterans and a special musical performance by Blaine Long. 
The two exhibits showcased in the video are "A Million Acts of Kindness" and "Chandler Veterans: DUTY". 
The video also includes interviews from local Veterans Lew Bradley (joined the Marines in 1950 at the age of 17); Bill Berry (enlisted in the Army in 1966 and fought in the Vietnam War); and Ashley McWhirt (been serving in the Marines for 12 years - both active duty and reserves and she currently works as a police records clerk with the Chandler Police Department).
Throughout the video, there will be messages of gratitude to veterans from the Chandler Mayor and Council. The video also will feature photos of local veterans that were submitted to Chandler Museum's Veterans database. 
Lew Bradley joined the Marine Corps on his 17th birthday in May 14, 1950. His first assignment was in Radio Shop repairing various radio equipment. The majority of his time was spent at the flight line helping maintenance personnel with their aircraft. Lew was transferred to Marine Air Base, Itami, Japan for duty as crew chief jet engine maintenance and later returned back to the United States.
Bill Berry was enlisted on Nov. 2, 1966 in the Army as a combat engineer. Bill served in the Vietnam War and was with the 173rd Airborne until he was wounded and could not return to active duty. Bill is a proud American Veteran and has dedicated his life work to helping those in need and Veterans.
Ashley McWhirt has been in the United States Marine Corps for 12 years. She served five years on Active Duty stationed at Marine Corps Security Force Battalion in Kings Bay, GA and at MARFORCYBER in Ft. Meade, MD. She has been a reservist for the past seven years, serving with Landing Support Battalion in Savannah, GA, Det 2 Supply Company in DC and currently with 3d ANGLICO in Los Angeles. With at least eight years to go, Ashley plans to retire from the Reserves.  Ashley currently works as a Police Records Clerk at the Chandler Police Department.
Blaine Long is a singer/songwriter from Phoenix, Arizona, who has recorded 12 albums as a solo artist.  Blaine received a 3-chair turn on Season 11 of The Voice. His blind audition song, Have a Little Faith in Me, went to #2 on the iTunes rock charts. In 2017, Blaine was voted Reader's Choice Award for Best Vocalist in Phoenix. Blaine performs over 200 shows a year playing his brand of soulful, original, Americana.
​Based out of Arizona, you can catch Blaine playing at a local spot or on tour anywhere from Okinawa Japan (playing for the troops) to a beachside resort in Mexico. Blaine Long is a must-see for a feel-good live music experience.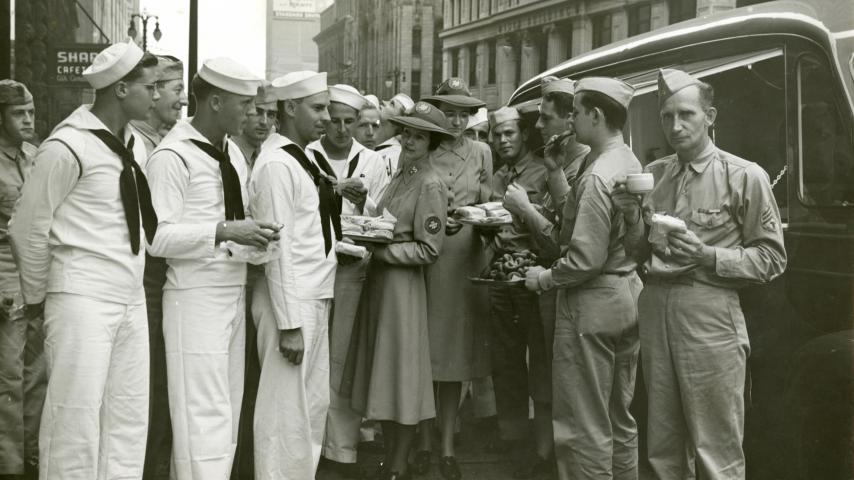 A Million Acts of Kindness Exhibit
May 18 | Chandler Museum
The exhibit: A Million Acts of Kindness will showcase the efforts of National Commander Evangeline Booth and her staff who were sent overseas to combat zones, specifically the front lines during WWI. While their numbers were a fraction of those sent by other aid organizations, the impact of the humanitarian aid offered by the Army to the troops was immeasurable.
The lasting result was the complete transformation in American public opinion toward the Army, permitting it to grow into the aid organization we know today. This exhibit traces the efforts of those Salvationists engaged in war service and shows their lasting impact.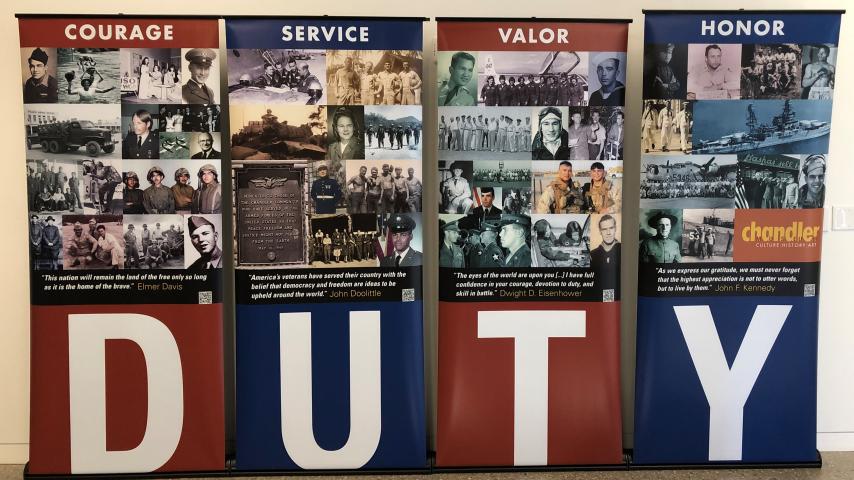 Chandler Veterans: DUTY
May 18 | Chandler Museum
Chandler Veterans: DUTY is a traveling banner exhibit that pays tribute to veterans from the Chandler community who have served in the military. The exhibit features the faces of Chandler men and women who have served in every branch of the military. Each banner includes a QR code with access to identification and stories about each individual veteran feature in the exhibit. Veterans highlighted in the exhibit served in wartime and peacetime, in conflicts from World War I through Afghanistan.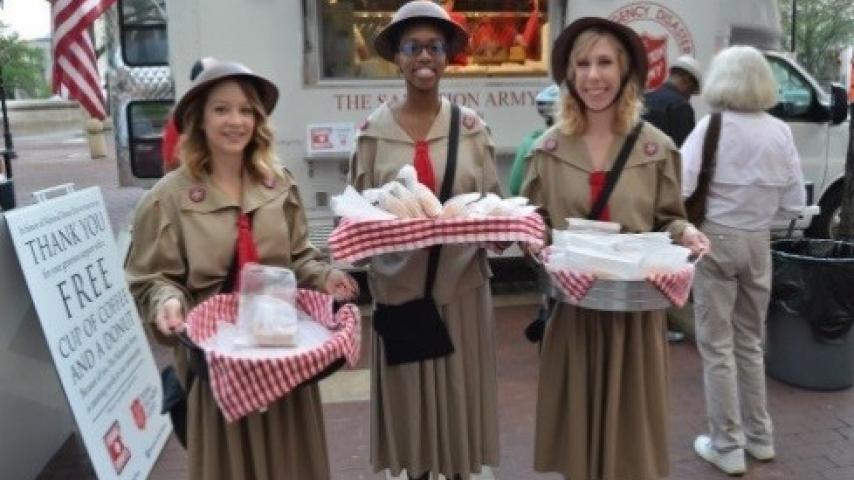 Salvation Army Donut Truck and Donut Girls
Beginning in 1917, approximately 250 Salvation Army volunteers provided assistance during World War I to American soldiers in battle on the front lines in France.
Two female Salvation Army officers, Ensign Margaret Sheldon and Adjutant Helen Purviance had an idea to comfort our soldiers with good home cooking, using their limited ingredients to fry up in helmets delicious doughnuts for the boys.
Nicknamed "Doughnut Lassies" and "Doughnut Girls", these women served countless treats to grateful soldiers, traversing through the trenches to bring the men doughnuts and coffee. They also made history by introducing this tasty new treat to the United States when the "Doughboys" returned from war.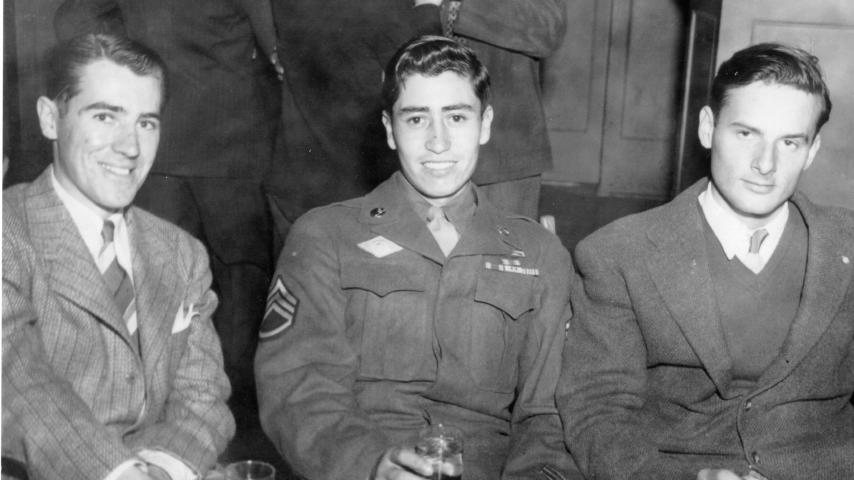 Veterans Database
The Chandler Museum is proud to work with the City's Diversity Office and The Salvation Army Chandler Corps to document our community's history of military service. If you are a Veteran and would like to share your story, or if you would like to share the story of a family member who served, we would be honored to preserve it.
We're using this information to compile a Chandler Veterans Database, which will be used as a foundation for initiatives to honor the service and tell the stories of Chandler's Veterans.