Nearly 300,000 people participated in 60 special events held in Chandler, including the 20th annual Chandler Jazz Festival, July 4th Fireworks Spectacular, Woofstock, Tumbleweed Tree Lighting and Parade of Lights.
The Chandler Multicultural Festival teamed up with the Chandler International Film Festival and Cultura Communications to create a weekend of international films and cultural performances. El Dia de los Muertos doubled its attendance in its second year with performances, exhibits and colorful altars at the Downtown Stage.
The Chandler Science Spectacular illustrated how science impacts our daily lives and generated youth interest in science, technology, engineering, art and math fields. Teams representing elementary, junior high, high schools and educational organizations competed for the most educational, most creative and most passionate projects.
Reading Programs for Adults and Children
Create. Play. Learn.
A $78,000 grant from the Arizona State Library enabled the development of Create. Play. Learn. High Five Early Literacy spaces at all four branches of the Chandler Public Library.
Each space offers interactive activities that encourage children's early literacy skills and school readiness, empowering parents with hands-on activities and ideas that they can use at home.
Library Grants
Chandler Public Library was awarded $12,000 by the City Council for the Read on Chandler program that provides preschool literacy services to families, ensuring all children have the skills needed to be successful in school.
The library also was awarded a $10,000 Acts of Kindness grant to continue early literacy programs and increase literacy outreach to those residents who exhibit the most need.
Summer Reading Challenge
The Summer Reading Challenge was the most successful in recent years with 10,700 participants and 5,639 finishers, among the highest percentage of finishers in Maricopa County.
The Kyrene School District credited the Chandler Public Library for increasing participation to nearly 1,000 of its students in the Summer Reading Challenge.
Book Rich Environment
Public Housing's Book Rich Environment partnership distributed nearly 3,300 books to Chandler residents.
The ASPIRE Read to Succeed tutoring program to improve reading skills of 1st graders living in public housing received the Program Innovation of the Year Award from the Arizona Chapter of the National Association of Housing and Redevelopment Officials.
Celebrating 30 years at the Center for the Arts
The Chandler Center for the Arts demonstrated the monetary value of the arts in our community with an estimated $8.8 million in economic impact, supporting a vibrant downtown. Roughly 80 percent of the Center's audiences travel from outside Chandler to attend performances, generating dollars spent for tickets and dining.
The Center for the Arts' 30th anniversary was highlighted by sold-out shows (64,863 tickets sold) and a season filled with some of the biggest performances it has ever presented, including Melissa Etheridge, John Cusack, Aaron Neville, Le Ann Rimes and Bernadette Peters.
New branding, website, marketing initiatives and facility upgrades modernized the Center for the Arts. The lobby and corridors were renovated with new carpet and wall treatments and the building exterior had new wayfinding and signage installed. An upgraded sound system with new state-of-the-art speakers and soundboard provided audiences with a better listening experience.
The Center for the Arts received more than $95,000 in grants to support youth art programs. The Connecting Kids programs, in partnership with the Vision Gallery, served more than 5,400 young people with free- and low-cost arts experiences.
Chandler Museum and Vision Gallery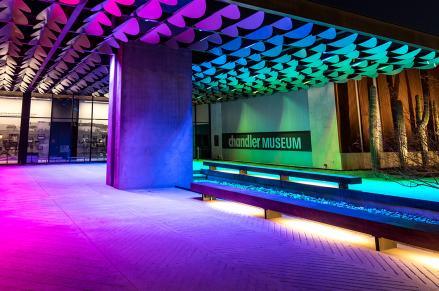 In its first year of operation, the Chandler Museum attracted more than 14,000 visitors, hosted field trips for nearly 1,600 schoolchildren and attracted another 6,500 people to museum events. The Chandler Museum Foundation also was formed to guide museum programs and coordinate fundraising.
The Chandler Museum added weekly programs, lunchtime lectures, "Our Stories" presentations, evening classes, exhibit receptions and adult programs. It presented a dozen exhibits, including five national traveling exhibits, four exhibits produced by museum staff and three partner exhibits. Docent tours also were added at the museum.
The Vision Gallery hosted 28 free exhibits and special events with more than 5,000 attendees.