In a year like no other, faced with the unparalleled challenges caused by the COVID-19 global pandemic, Chandler's spirit, sense of community and livelihood were put to the test along with the rest of Arizona, the United States and the entire world. It is during one of the most trying times in history that we saw just how strong we are, and that we're stronger when we come together. 
From first responders and healthcare professionals keeping our community safe and nonprofits helping our most vulnerable to the tireless work of businesses – small and large –  to keep afloat, and residents adapting to a new virtual way of life, Chandler truly earned its title as the Community of Innovation by tapping into the entrepreneurial spirit, innovation and hometown traditions that have shaped our city since being founded by Dr. A.J. Chandler in 1912.
The 2020 annual report presents Chandler's progress toward the City Council's strategic framework which builds on a foundation of community ideals and input gathered over the years. This roadmap of priorities reveals our direction to be a world-class city that provides an exceptional quality of life.
Message from Mayor Kevin Hartke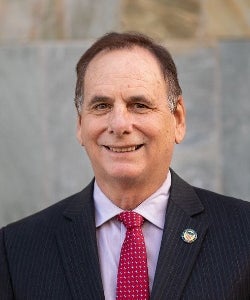 Chandler truly earned its title as the Community of Innovation in 2020. In a year of unparalleled challenges, the City worked diligently to continue providing exceptional service to our residents, businesses and visitors.
Despite the pandemic, we welcomed new businesses, saw more public art pieces pop up throughout the City, announced major developments and launched initiatives to support the local economy.
Through the hardship our community endured, we came together stronger. I am proud of the innovation displayed by City staff and am excited to share through this Annual Report a glimpse into some of the programs that helped rank Chandler amongst the top cities to live, work and – now – to quarantine.
Message from City Manager Marsha Reed
Team Chandler takes great pride in the quality and effectiveness of our services, but 2020 offered unique challenges unlike any ever experienced. We demonstrated empathy, innovation, perseverance and strength in response to public health and economic challenges.
Planned spending was reduced and projects were deferred given the uncertain financial impact and duration of the pandemic. We adapted how we connected with others and delivered services for the safety of the community and our employees. Assistance programs for businesses, nonprofits and residents in need also provided a source of financial support and stability.
Chandler continued to be recognized among the most prosperous cities in the nation, the best cities to live, find a job and work from home. For women in technology and women entrepreneurs, Chandler was cited among the best places in the country. We are proud to share our accomplishments with details highlighted under each focus area and in special sections presented in the annual report.
Focus Areas
The 2019-2024 Strategic Framework serves to set the stage for the City of Chandler for the next five years. The City Council has outlined five focus areas to concentrate efforts and provide their vision for what to work towards.