Chandler's high-tech industries and talented workforce drive the local economy and create future opportunities. The City recognizes the importance of providing solid infrastructure and streamlined government services to support the implementation of current and future technologies.
Water Utilities and Infrastructure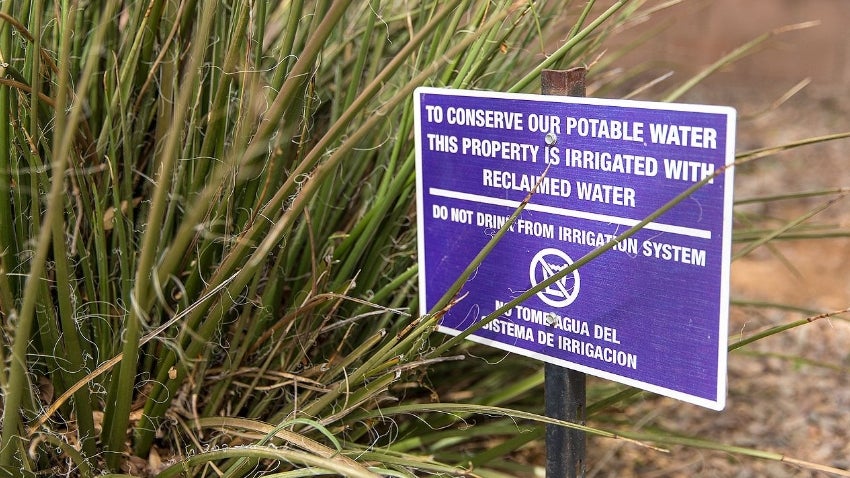 Chandler leverages and enhances technology to ensure the health and safety of residents while investing in utility infrastructure and water resources to serve the needs of residents and businesses.
More than 20 billion gallons of water were provided to Chandler's residential, commercial, and industrial customers through two surface water treatment plants and a number of groundwater well sources. More than 6,000-acre-feet of Colorado River water supply was stored underground and ensured that future customer water demands can be met during surface water shortages due to drought conditions.
Chandler conveyed and treated more than 11 billion gallons of wastewater to A+ reuse water standards for the City's many reclaimed water customers. A joint project began this year to rehabilitate several significant treatment processes at two of the City's water reclamation facilities. The complexity and flexibility of both facilities has ensured continued regulatory compliance and saved ratepayer dollars through an unprecedented joint, coordinated effort.
Adapting Service Delivery
Mobile Workforce
Chandler pivoted to the unique circumstances presented during the pandemic to deliver seamless service for businesses and residents. Enhanced communications and computer infrastructure enabled more than 700 employees to work remotely and, to further the mobility of the City's workforce, the City replaced 30 percent of desktop computers with laptops.
The goal of replacing 100 percent of desktops with laptops will be fulfilled in 2021.
COVID-19 Hotline and Call Center
The City's established a COVID-19 hotline and call center to address questions and connect the community with resources. Employees could receive calls through the automated call routing system when at City offices or working remotely.
The hotline received 556 calls this year, and 44 employees fielded questions from businesses and residents.
Increased Online Scheduling
The City offered appointment scheduling for services to eliminate lines and wait times for transactions that required a one-on-one session with staff, including:
housing
tax and license

utilities

permits

notary services
Fiber-optics and Communications Infrastructure
The City improved communications services for Chandler businesses and residents by approving telecommunications licenses for two new fiber optic communications companies. Cox Communications completed the main build of its Cox Gigablast NT 2.0 project including the Cox future node split projects, which were accelerated to support virtual learning and remote work.
A citywide assessment of the fiber-optic network that is used to connect City facilities, traffic signals and technology infrastructure was completed this year to identify future investments needed. The City coordinated improvements to the City's fiber-optic system that connects traffic signals at 216 intersections and 57 City facilities, with more traffic signals and sites coming on board.
The City managed a joint conduit partnership project with Verizon for an additional 26 miles of conduit for future fiber use and implemented the City Smart Parking project with Verizon to monitor the availability of parking spaces in downtown parking structures. Wireless providers also initiated 133 Small Wireless Facility Builds in Chandler, most of which have been completed.
The City Council authorized the payment of $250,000 from the coronavirus relief funds to Chandler Unified School District to purchase 1,000 mobile hotspots that were distributed to students in need of Internet access to connect with their teachers and online/virtual classrooms.
Virtual Public Meetings
The City conducted virtual meetings and integrated Webex into 27 conference rooms, including the Emergency Operations Center, Municipal Court, Council Chambers and City Hall. Virtual public meetings enabled residents to provide input that shaped master planning projects for Chandler's parks and airport as well as evaluate the feasibility of a multi-generational recreation center. An electronic agenda project modernized the look of the City Council agenda and enhanced the internal review and coordination required to place items on the agenda.
Timely notice of all City Council and Board and Commission meetings was especially important when public attendance at meetings was restricted or limited this year. In addition to regular meetings and study sessions, City Council work sessions and special meetings were broadcast and streamed so the community could view those meetings without having to be physically present.
An online public comment form enabled residents to submit comments on agenda items that were read into the record for the meeting. Seating in the Council Chambers was arranged in compliance with public health guidelines for social distancing with masks and disinfection supplies for those in attendance. 
Recycle Right and Utility Agreements
The City launched the Recycle Right campaign to address changes in the recycling marketplace and inform residents regarding the materials that are now being accepted. The Recycling Solid Waste Collection Center serviced approximately 30,000 visits collecting nearly 5,938 tons of solid waste. Household Hazardous Waste Collection center serviced 925 visits to provide residents with a safe alternative to dispose of hazardous waste generated in Chandler homes.
Additionally, the City successfully renegotiated a 10-year contract with Waste Management Services for residential solid waste pickup and disposal and negotiated a new 25-year franchise agreement with Southwest Gas, which Chandler voters approved during the general election this year.