Mobility — the ability to go places — has been essential to Chandler's success. Served by three major highways, a well-planned arterial street network, public transit, and a growing airport, the foundation has been laid for Chandler to expand its multi-modal transportation offerings and further integrate new technologies to efficiently get people where they want to go. Mobility includes bicycling, autonomous vehicles, new transit modes, business aviation, traffic technologies and safety enhancements.
Street Improvements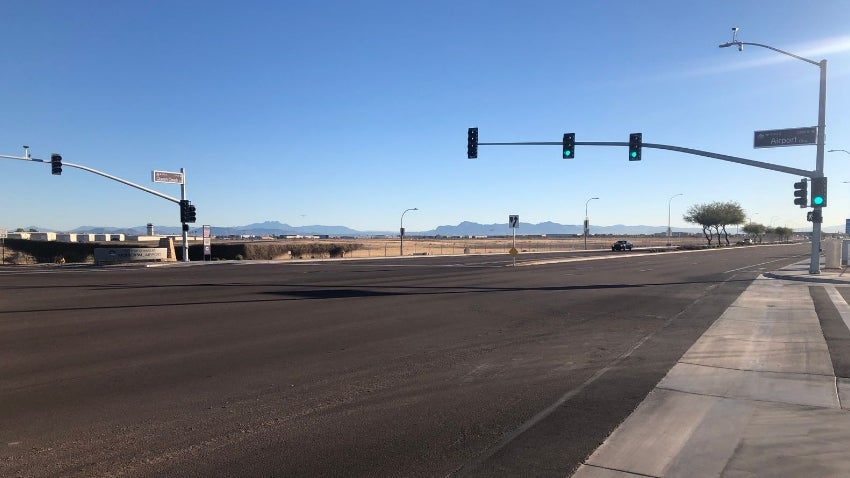 Widening of Queen Creek Road (between McQueen and Gilbert roads) and Chandler Heights Boulevard (between Arizona Avenue and McQueen Road) was completed this year, marking progress toward the goal of completing arterial street improvements in southeast Chandler.
Widening Alma School Road to three lanes in each direction between the Loop 202 freeway and just south of Germann Road began. Reducing the width of the raised center median provided an efficient and less time-consuming method to complete the project in early 2021.
An intergovernmental agreement with Chandler Unified School District created efficiencies and shared costs for upcoming improvements on Gilbert Road (south of Ocotillo Road to the north of Chandler Heights Boulevard) adjacent to a new high school. The roadway is being widened to three lanes in each direction by narrowing the center median.
An online service for contractors to obtain and receive Road Restrictions and Closure Permits launched this year and an enhanced interactive map provided residents daily updates for Traffic Restrictions.
Traffic Signal Systems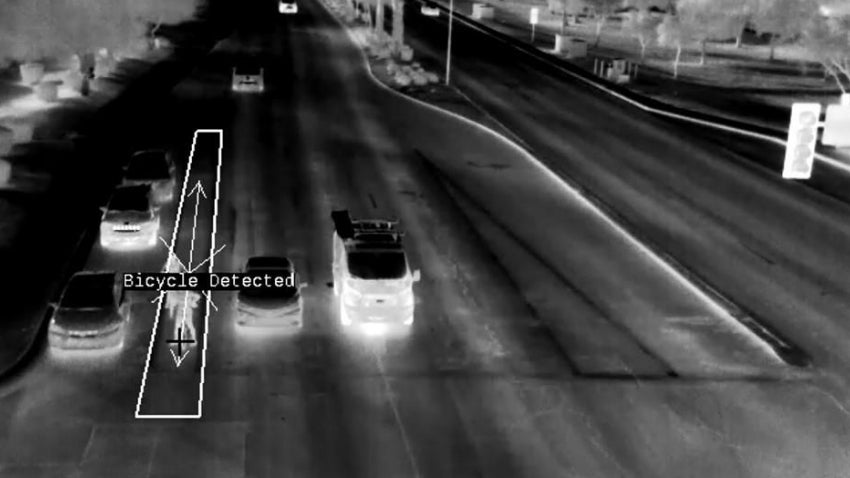 Video detection cameras installed at 40 intersections detected the presence of vehicles and bicyclists so traffic signal timing could be modified to provide bicyclists the additional time necessary to cross the intersection.
A regional emerging technologies project in Chandler installed, implemented and evaluated adaptive signal technology along the segment of Chandler Boulevard between Loop 101 and McClintock Drive. This system uses artificial intelligence to adapt signal timing in real-time based on traffic demand at the intersections.
Transportation Grants Reduces Financial Burden on the City
Chandler achieved recertification to manage Arizona Department of Transportation grant-funded projects, updated the Capital Projects Manual, and implemented revisions for the selection of disciplines involved in Job Order Contracting. Federal, state, and regional grants enabled Chandler to enhance the City's transportation and transit systems or equipment while minimizing the financial burden on the City.
| | |
| --- | --- |
| Alma School Road from Pecos Road to Germann Road | $4,000,000 |
| Frye Road Protected Bike Lanes Study | $80,000 |
| McClintock Road/Kyrene Road Bike Lanes | $1,436,404 |
| Bike Lanes on Chandler Boulevard from I-10 to 56th Street | $409,003 |
| Pave Unpaved Alleys | $363,367 |
| Price Road & Ocotillo Road Shared Use Path Study | $75,440 |
| Wall Street Pedestrian Improvements Study | $66,953 |
| Street Sweeper | $242,635 |
| Total | $6,673,802 |
Chandler Airport
The Chandler Airport Master Plan Update, the City's first in ten years, made significant headway on its path to completion in 2021. A Planning Advisory Committee comprised of 23 airport stakeholders met multiple times to construct an airport vision for the future and arrive at a recommended facility plan.
Multiple public outreach meetings required significant use of technology through video conferencing and online forms to avoid gatherings during COVID-19. The City adapted to keep the plan on schedule and ensured a range of voices were heard in the process, generating nearly 200 comments from residents and airport users.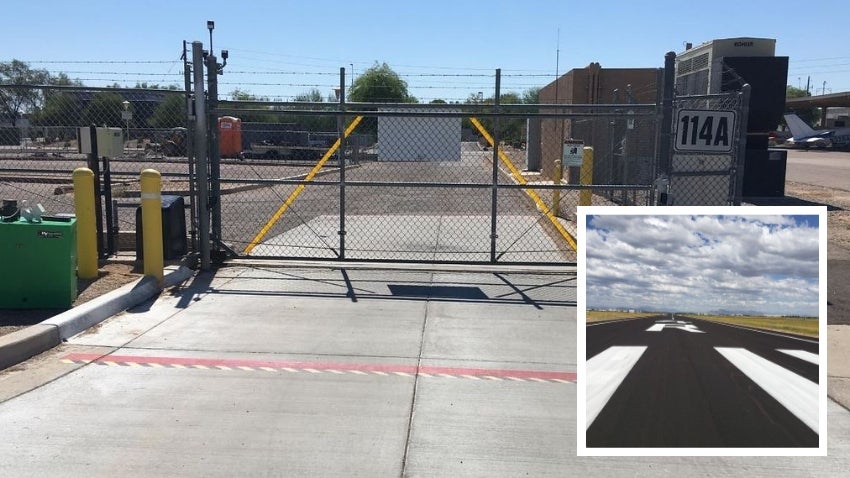 Airport Upgrades
Pavement rehabilitation projects were completed this year at the heliport and Runway 4R-22L. All five of the airport's gates and the gate card access control system were upgraded to enhance functionality and safety. Additionally, all airport maintenance requests can now be completed through the City's PublicStuff mobile application and website.
Monthly Newsletter
The Airport monthly newsletter was re-launched after being dormant for several years. This electronic publication was reimagined with regular updates on airport projects and programs and features about airport staff, airpark businesses and aviation history.
Transit Projects
First-Mile, Last-Mile
A pilot program in partnership with rideshare platform Lyft kicked off in September, covering up to 50 percent of ride costs to and from designated bus stops south of Pecos Road.
Dubbed the First-Mile, Last-Mile program, this partnership expanded public transit access to an area of Chandler with limited service, while at the same time avoiding the high cost of adding multiple new bus routes.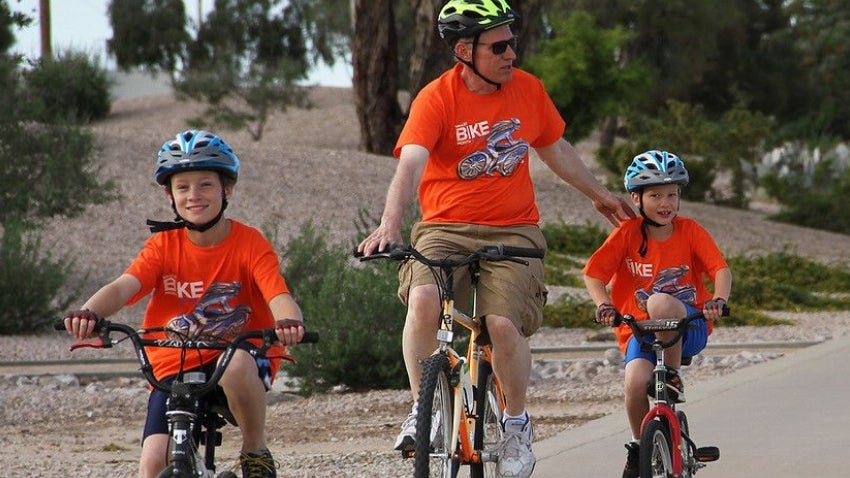 City on the Move
Contracts for the fabrication and maintenance of bus stop shelters were extended in 2020 with terms that generated additional revenue opportunities.
Traffic rules in City Code for motorized play vehicles were updated to include scooters and a pilot program developed this year outlined rules for micro-mobility companies to operate in Chandler.
The Virtual Family Bike Ride held in April for Valley Bike Month attracted 279 participants.
Chandler & Valley Metro
Fixed route bus, paratransit and RideChoice services were provided for Chandler residents through Valley Metro.
Non-American with Disability Act Paratransit passengers transitioned to the more cost-effective RideChoice program that offers access to a larger network of rideshare providers through Uber, taxicabs and wheelchair-accessible vehicles.