From the beginning, the City of Chandler was quick to monitor the COVID-19 situation and take measures to help prevent the spread of COVID-19 in our community based on recommendations provided by the Maricopa County Department of Public Health, Arizona Department of Health Services, Centers for Disease Control and Prevention and World Health Organization.
The City took the lead in preparations and was deeply engaged with public health agencies, healthcare providers, schools and businesses to mitigate the impact of the virus.   
Emergency Declaration
Mayor Kevin Hartke issued an emergency declaration in March that encouraged businesses and residents to implement social distancing and other public health guidance to protect the health and safety of the community. A second proclamation in June required the use of face coverings during consumer activities and in public places.
Community Health Updates
Chandler Fire provided frequent updates on COVID-19 related data to guide policy decisions and the implementation of the City's emergency operations plan.
The Chandler Fire and Police departments supported the distribution of vaccines by working with the Maricopa County Department of Public Health and Dignity Health to administer approximately 36,000 vaccines beginning in December 2020.
Clear Communications
A communication campaign informed residents and businesses of COVID-19 related public health guidance. Policy actions taken by the Governor and Mayor connected businesses and residents with resources and conveyed the operating status of City facilities and services.
A phone hotline fielded more than 550 calls from Chandler businesses and residents.
Virtual Transition
Many planned special events were converted to virtual events by producing live streaming and on-demand video to limit public gatherings.
Online viewing and broadcasts of City Council meetings and interviews with subject matter experts provided key information regarding the City's response to COVID-19.
Facilities Open for Public Use
In response to the Governor's executive orders, recreation centers, libraries and cultural facilities were closed from March until May to slow the spread of COVID-19.
Chandler was among the first Valley cities to restore public use of recreation centers and libraries with creative solutions and mitigation in place to protect the health and safety of our residents and employees.
Funding and Assistance Programs
Chandler reduced planned expenditures by $30.5 million across two adopted budgets and deferred capital improvements in anticipation of the COVID-19 related economic impacts. The City later received $29.9 million of the federal coronavirus relief funds provided to the State of Arizona.
Those funds were used to cover public safety and technology expenditures, assisted Chandler businesses by offering funds for employee retention, hiring and personal protective equipment as well as supported nonprofits and social service programs serving residents in need. 
Business Hiring and Retention Program
The allocation of $9.5 million toward the I Choose Chandler Business Hiring and Retention Program reimbursed qualifying businesses $1,300 per employee retained or hired since Dec. 31, 2019, up to a maximum of $10,000.
This program provided relief to 544 Chandler businesses in 2020.
PPE Kits
The City of Chandler in partnership with the Chandler Industrial Development Authority reimbursed 230 Chandler businesses a total of $103,548 for their purchase of personal protective equipment.
The City also developed a program in partnership with the Chandler Chamber of Commerce to distribute personal protective equipment kits to more than 500 businesses.
We're in this Together
A video series shared advice on how businesses could best use different assistance programs and interviewed local experts to get their insights and tips for Chandler businesses.
A virtual hiring event coordinated with regional partners matched Chandler-based employers with local job seekers. Nearly 600 job seekers were matched, interviewed or hired by more than a dozen Chandler companies through this virtual event held in the summer.
City departments, and local businesses come together to support each other through the pandemic.
Chandler created programs that helped businesses navigate capacity limitations imposed during COVID-19. These programs showcased innovative methods taken with the support of the Downtown Chandler Community Partnership and local businesses.

Dine in the Park
'Dine in the Park' provided additional capacity for restaurants as they adapted to capacity restrictions while leveraging the temporary authority granted for the sale of to-go alcohol.
Patrons ordering from local eateries could consume their take-out meals with beer and wine in designated sections of Dr. A.J. Chandler Park in Downtown Chandler.
On the Street
The 'On the Street' program was created to help businesses cope with capacity restrictions due to COVID-19.
It's great for customers who aren't comfortable being inside businesses or who just want to enjoy the beautiful Arizona weather; they can now support Chandler businesses On the Street.
Shop Local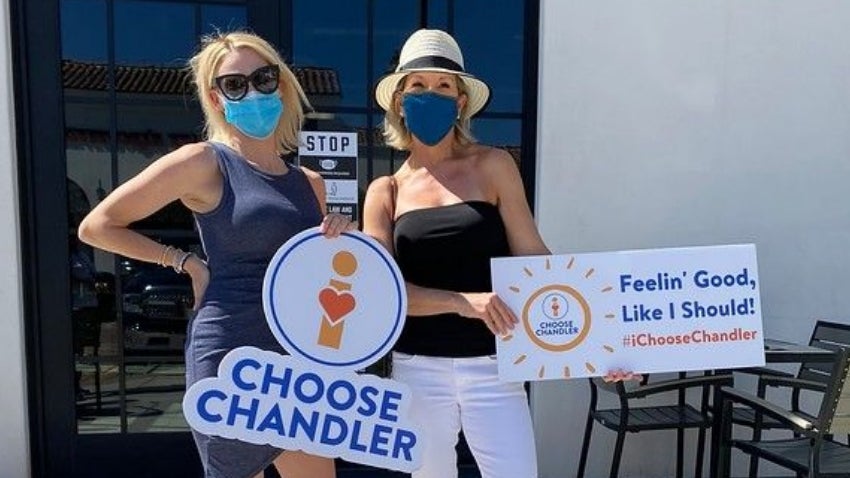 "I Choose Chandler"
The multi-faceted "I Choose Chandler" marketing initiative supported local businesses and informed the community of the impact residents have when they choose to spend their money and volunteer their time in Chandler.
"I Choose Chandler" Map
An interactive mapping tool-assisted Chandler businesses by encouraging them to submit current offerings, such as online services, specials, delivery/takeout, curbside pick-up and hiring opportunities.
This was promoted to residents to help support local businesses, find new places to dine/shop and maybe even find a job.
Business Fees and Regulations
Reduced Liquor License Renewal Fees
The Chandler City Council ratified an emergency declaration brought forward by City Manager Marsha Reed to cut liquor license renewal fees in half and defer their due date by three months.
Relaxed Sign Code
Chandler City Council approved a resolution to relax standards on the City's temporary sign code. This gave local businesses that might be struggling during the pandemic the opportunity to have additional signage to promote their services without needing a permit.
Temporary Free Parking
Temporary 30-minute free parking signs installed in the Downtown Historic Square provided patrons with easier access to their favorite eateries and shops for takeout/delivery options.
Protecting Chandler Employees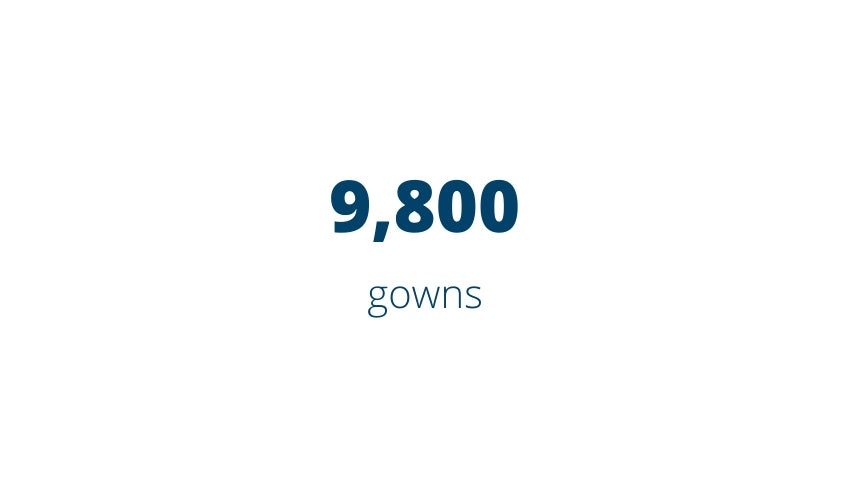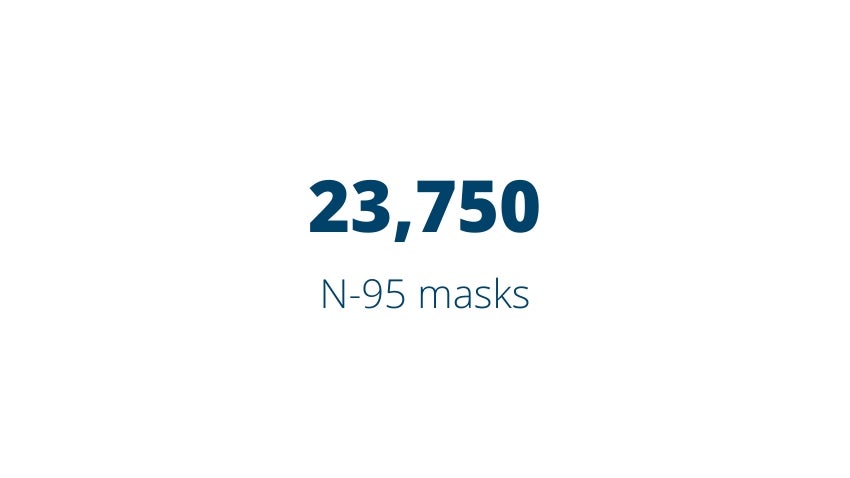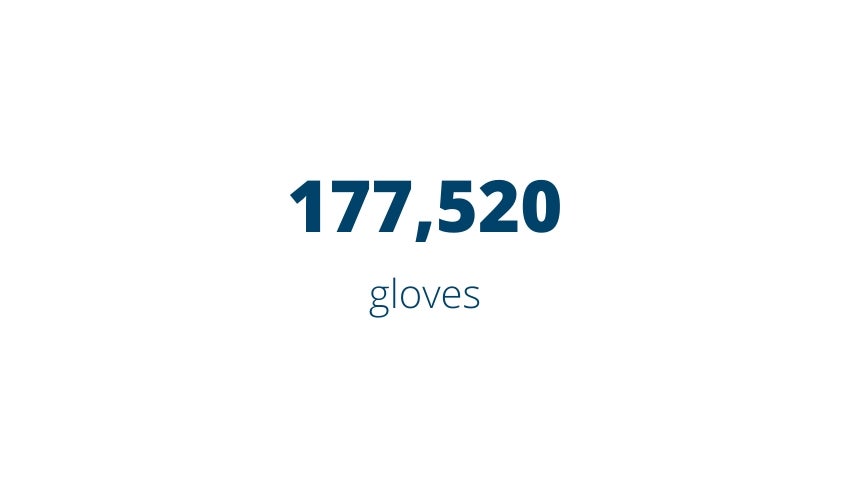 Through early preparations and well-planned purchases, top-rated personal protective equipment was distributed to first responders to keep them well protected during COVID-19. Tracking the daily use of these supplies was extremely important when supplies were short in times of high demand. Chandler requested and accepted more than $92,000 in federal reimbursement to recover expenses related to COVID-19 treatment and protective measures.
Chandler was able to minimize the number of people who tested positive by involving employees in the development of policies that focused on safe service delivery and training employees on procedures to enhance workplace safety. Enhanced cleaning and disinfection procedures at City facilities plus new algorithms for emergency response and treatment developed by first responders reduced transmission of the COVID-19 virus. 
Guidelines developed by the Centers for Disease Control and Prevention were followed to quarantine employees experiencing COVID-19 and those who tested positive. Contact tracing and disinfection procedures were applied to monitor employee exposure to people who tested positive. More than 700 tests of employee on-the-job exposures to COVID-19 were tracked and reported in 2020. Leave and benefit programs were modified to incorporate new federal requirements, offer employee resources and adapt to needs brought on by the pandemic.