City and CUSD partner to host Chandler Innovation Fair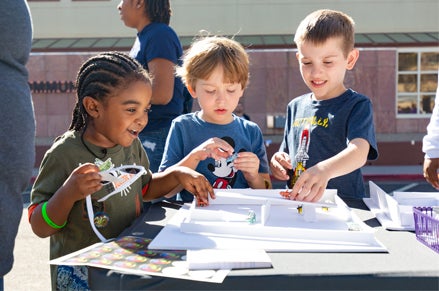 On Saturday, Feb. 25, the Chandler community celebrates  innovation! The Chandler Innovation Fair, held in partnership between the City of Chandler and Chandler Unified School District, showcases local businesses, artists, students and innovators from 10 a.m. to 3 p.m. in Downtown Chandler, 178 E. Commonwealth Ave.
This free event is designed to introduce youth to various fields in STEAM and offers unique opportunities for attendees to explore the discoveries of science engineered in their own backyard and taught in Chandler Unified schools. Participants will entertain the whole family while explaining how science is important to daily life through interactive demonstrations by Chandler's technology companies, schools and more. Special thanks to this year's sponsors: Northrop Grumman, Intel, Edwards Vacuum, First Things First and WM of Arizona.
New ordinance takes effect Jan. 5 allowing backyard chickens
The Chandler City Council approved the final adoption of an ordinance (with a 5-2 vote) that will allow backyard chickens within single-family lots. The approved ordinance will take effect on Jan. 5, 2023.
Per the ordinance, up to five chickens would be allowed per yard and residents with chickens must have a chicken coop on their property set back five feet from all property lines. No roosters would be permitted.
This ordinance would not impact residences located within a homeowner's association (HOA) community. Homeowners living in an HOA would be required to follow the rules of a HOA (covenants, conditions & restrictions known as CC&Rs) related to backyard chickens. More than 70% of Chandler residents live within an HOA community.
2023 Chandler State of the City
Chandler Mayor Kevin Hartke and the City Council will host the State of the City on Thursday, Feb. 16, at the Chandler Center for the Arts (CCA), 250 N. Arizona Ave. The event begins with a reception at 5 p.m. in the CCA foyer, followed by the Mayor's remarks at approximately 6 p.m. 
The theme this year is Chandler Through the Decades. During the reception, guests can enjoy dance and vocal 
performances from talented Chandler creatives, as well as a look at Chandler through the decades in a themed lobby 
experience.
Mayor Hartke will highlight Chandler's numerous accomplishments from 2022 and provide insight into things to come this year. The speech will be available on demand the following week. 
The event is free and open to the public.  
FAQs on recycling and trash in Chandler
The Recycling-Solid Waste Collection Center (RSWCC) is a residential drop-off facility for recycling and trash disposal. It is located at 955 E. Queen Creek Rd., and is open Thursday through Monday from 8 a.m. to 4 p.m. (closed Tuesday, Wednesday and City-observed holidays). These are some of the most frequently asked questions about the RSWCC:
What do I need to bring with me to use the RSWCC? A photo ID and a current copy of your City of Chandler utility bill (City Code requires a current bill within the last 60 days). 
What if I don't receive a City utility bill in the mail? I have autopay online. Residents with autopay should print a copy of their utility bill from the Utility Billing web page or have the bill print/barcode open and available on an mobile electronic device prior to driving on the scale for check-in.    
Who can use the RSWCC? Chandler residents with proper identification whose names are listed on the solid waste account are permitted use of the facility. Only waste generated at the address on the City utility bill is accepted for disposal.
Can I bring or authorize a third party to use the RSWCC for me? Use of the facility by a third party performing work at a resident's property is prohibited. Residents must haul and unload material from the address shown on their Chandler utility bill.
What is the cost? 
First two visits per calendar year:
0 – 400 lbs. - Free
400 lbs. and over - $50/ton 
Additional visits: 
0 – 400 lbs. - $10 per load
400 lbs. and over - $50/ton (prorated)
$15 per Freon/coolant bearing appliance 
All fees are charged to the resident's Chandler utility bill. Dropping off only recyclable materials will remain cost-free.
Contact Us
Communications & Public Affairs | 480-782-2228
Mayor & Council | 480-782-2200
Tune In  
Visit Chandler Video for live stream and videos on demand of meetings and original programming.

Accessibility 
In accordance with the Americans with Disabilities Act, this publication can be made available in an alternative format.

Facebook | Twitter | Instagram | YouTube | LinkedIn