Join in the 2023 Family Bike Ride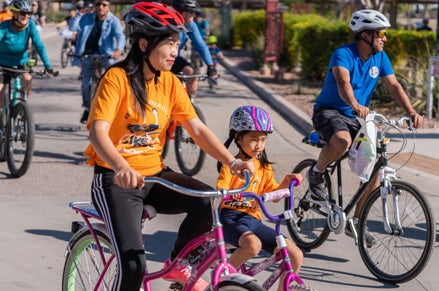 Celebrate the 15th Annual Chandler Family Bike Ride on April 1. The event kicks off at 7:30 a.m. with activities that include vendors, equipment safety checks and a bike rodeo.
Promptly at 8:30 a.m. the guided 7.8 mile bike ride will begin, starting at the Chandler Park and Ride, located at 2100 S. Hamilton St. Participants will then bike on the Paseo Canal to Tibshraeny Park, and back. Upon return, cyclists can enjoy a free Kona Ice to celebrate.
If you're not able to attend the community event or would rather ride in the comfort of your own neighborhood or park, the City also offers a virtual bike event Monday, March 27 - Sunday, April 2. Grab your family and friends and ride anytime during the weeklong event.
Whether riding in the virtual or in-person community event, all participants are asked to register online. Be sure to preregister by March 12, 2023 to receive a free event t-shirt.
For more details, call 480-782-3442. Thanks to this year's title sponsors, SRP and Phoenix Children's Hospital.
Provide valuable feedback regarding the City's recycling and trash services and programs
The City's Solid Waste Services Division is committed to providing safe, cost-effective and efficient recycling and trash services and programs to the residents of Chandler. Staff is continually searching for ways to improve and are asking for feedback from those that receive these services. Please help evaluate the services and programs by completing a survey through April 14. 
Chandler residents who complete the survey have a chance to win a gift bag that includes a $25 Fry's gift card.
Learn the rules for door-to-door sales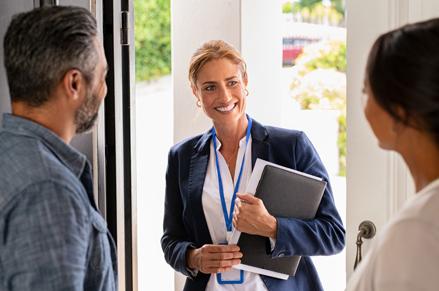 Door to door solicitation is allowed in the City of Chandler, but the merchant performing the action has rules that they must follow. Per City Code Chapter 20, a transient merchant business must apply for, receive and maintain a permit to operate within Chandler city limits. The permit requires information about the applicant, employees, and a description of the items being offered.
Upon approval, the applicant will receive a permit that should be displayed and each individual permittee will be issued an
identification card that includes the business information, as well as a photo of the permittee. If someone comes to your door, you can request to see their ID to verify that they are approved by the City.
Residents are allowed to post non-solicitation notices on their homes, and solicitors must not attempt to contact these
residences.
To report an unpermitted vendor, or to verify that a vendor is permitted, contact a City Business Compliance Representative at 480-782-2299.
Chandler offers passport services
Did you know that the Chandler City Clerk's Office is designated by the U.S. Department of State as a Passport Acceptance Facility? That's right! Chandler residents and the general public can come to Chandler City Hall to process their passport application.
Just make an appointment at Chandler Passports to schedule a convenient time Monday - Friday from 8:30 a.m. to 4 p.m.
The website is updated in real time and appointments are added daily. It's recommended to check frequently for open dates and times.
Once your appointment is scheduled, you'll receive an email with a checklist of payment requirements, paperwork and identification to bring to your appointment.
As a reminder, if you have emergency travel, we recommend calling 1-877-487-2778. 
Annual Financial Report and Budget Summary 
The documents above are also available in the Management Services Department, Chandler Public Libraries and the City Clerk's Office.
The financial report summary provides information about the City's financial condition for the fiscal year ending June 30, 2022. The budget summaries depict the City's operating and capital budgets for the prior and current fiscal years.  The information included in this summary is extracted from the documents listed above. For further information, call 480-782-2254.
Chandler receives accolades for financial reporting and budget presentation
The City remains committed to providing residents with complete and fair presentation of its financial affairs. In 2022, Chandler again received two prestigious awards from the Government Finance Officers Association of the United States and Canada.
The Accounting Division received the Excellence in Financial Reporting Award, for the June 30, 2021 ACFR. This was the 40th consecutive year the City has received this award.
The Budget Division, for the 35th consecutive year, received the Distinguished Budget Presentation Award for the FY 2022-23 Budget document.
Shop local, Choose Chandler.
Every purchase counts
Why is it important to Choose Chandler for all our purchasing needs? In short — shopping local not only helps local businesses, but it also benefits the community! Did you know sales taxes from the money you spend in Chandler supports many of the City's services, such as Police and Fire, road improvements and neighborhood updates? These tax dollars also help increase the quality of life for Chandler residents by providing funding for enhancing parks, sports fields, trails, pools, and recreation programs.
Not only do these tax dollars support City Services, but patronizing Chandler-based businesses has a major impact on the local economy. Did you know that for every $100 spent at a locally owned business, $43 remains in our economy? Each purchase, large or small, makes a difference and keeps our City thriving.
Choosing to shop local keeps tax dollars in Chandler and benefits organizations that serve our community, including youth services, food banks, social service agencies, and many more who rely on support and donations from local businesses. When our businesses thrive, Chandler thrives.
For more ways to shop, visit, and dine in Chandler, visit ChooseChandler and follow @VisitChandler on Facebook and Instagram.
Springtime events in Chandler
Chandler Jazz Festival | March 30 - April 2  |  Downtown Chandler
Downtown Chandler hits a high note with the return of the 2023 Chandler Jazz Festival. The expanded festival treats music lovers to melodic melodies from local and national artists. The return of the main stage happens on Saturday, April 1 this year. Sidewalk bands will be playing Downtown and there will be bands playing in many of the downtown establishments each day of the festival. The events are sure to kick off an amazing celebration of Jazz Appreciation Month. 
Family Easter Celebration  |  April 7  |  5:30-8:30 p.m.  |  Dr. A.J. Chandler Park Stage Plaza
No bunny does Easter like Chandler's Family Easter Celebration, especially when it's egg-citing! Hop along with other bunnies and eggs-perience the 24 Karrot Trail, games, inflatables and more. Bring your camera to capture memories with the Easter Bunny. 
Earth Day Celebration  |  April 22  |  9 a.m. to noon
Show Mother Earth some love and do a world of good at the Earth Day Celebration. Discover ways to live an eco-friendly lifestyle through crafts, activities, and information booths featuring a variety of organizations promoting "green" products, conservation, and sustainability.  
April calendar highlights
1, 2 Chandler Jazz Festival, Dr. A.J. Chandler Park, 480-782-2735
1   Chandler Family Bike Ride, Chandler Park & Ride, 480-782-3442
1, 2  All-City Softball Tournament, Snedigar Sportsplex, 480-782-2704
7   Family Easter Celebration, Dr. A.J. Chandler Park Stage Plaza, 480-782-2735
12 Belonging Symposium, Chandler Marriot, 480-782-2214
13, 27  City Council meeting, Council Chambers, 480-782-2181
14 Break Time available, City Facilities, 480-782-2727
14  Jarabe Mexicano, Center for the Arts, 480-782-2680
22 Earth Day Celebration, Chandler Nature Center, 480-782-2890
22 Make and Take Art Project, Vision Gallery, 480-782-2695
27 Reception for CUSD Annual Showcase, Center for the Arts, 480-782-2680       
Get your yard ready for spring
Warmer weather is here, and it's time to get Chandler yards ready for spring. There are three options for residents to dispose of green waste.
One option is to bag yard waste and place it in the black trash container for normal weekly collection. Maricopa County and Chandler City code require that all yard waste items, including leaves and grass, must be bagged and tied before placing it in the trash can.
Another option is curbside bulk collection. There are specific size requirements and instructions. Make a list of what you need picked up, then call Solid Waste Services at 480-782-3510, or submit an online request to receive instructions and schedule. 
The third option for Chandler residents is to drop off yard waste at the Recycling-Solid Waste Collection Center (RSWCC), located at 955 E. Queen Creek Road. The facility is open Thursday through Monday, 8 a.m. to 4 p.m., and closed Tuesdays, Wednesdays and City-observed holidays. A picture ID is required, as well as a current City of Chandler utility bill showing City-provided solid waste services (within 60 days). Residents must haul and unload their waste, and only trash from the Chandler residence listed on the bill may be brought to this facility. 
Backyard composters are available at the RSWCC and backyard composting workshops are scheduled throughout the year. To register, call 480-782-3800.
Contact Us
Communications & Public Affairs | 480-782-2228
Mayor & Council | 480-782-2200
Tune In  
Visit Chandler Video for live stream and videos on demand of meetings and original programming.

Accessibility 
In accordance with the Americans with Disabilities Act, this publication can be made available in an alternative format.

Facebook | Twitter | Instagram | YouTube | LinkedIn 
Archive