June 14, 2023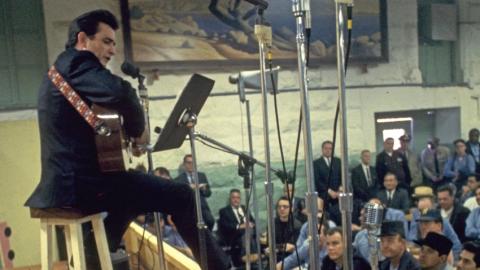 CHANDLER, Ariz. – "1968: A Folsom Redemption" is a candid photography exhibition covering a critical juncture in the career of Johnny Cash, one of the 20th century's most beloved performers. This collection of photographs and memories was captured by two journalists who witnessed the historic Johnny Cash concerts at Folsom Prison. "1968: A Folsom Redemption" will be on view June 20-Aug.13 at Chandler Museum.
In January 1968, Johnny Cash was at a crossroads. After a slow decline in popularity, Cash needed a smash hit. He had recently straightened out his life and was looking for redemption. Under new leadership at his record label, Cash was finally able to convince them of the merits of a live recording in a prison setting. Cash had been performing for inmates as far back as 1957, when he received a stream of requests from prisoners who identified with the man who sang "Folsom Prison Blues." The connection he developed with prisoners during these concerts made him increasingly sympathetic to those he would later call "the downtrodden."
Working as freelance journalists, photographer Dan Poush and writer Gene Beley met with Cash and his family the day before the concerts. Cash, along with opening acts Carl Perkins and the Statler Brothers, performed two separate shows in the dining hall at Folsom. Capturing Cash's ability to connect with his audience, the recordings crackled with the excitement of an adoring crowd. The resulting album, "At Folsom Prison," was released four months later to critical and popular acclaim. 
Beley's first-person account of those days, and his knowledge of the storylines at work behind the scenes, make this a fascinating exploration of the little-known aspects of a well-known event in popular culture. "1968: A Folsom Redemption" takes the viewer right into the heart of this pivotal moment in the life and career of one of the twentieth century's most cherished musical personalities.
"1968: A Folsom Redemption" is organized by ExhibitsUSA, a program of Mid-America Arts Alliance and will be on view at the Chandler Museum from June 20-Aug. 13, 2023. Chandler Museum is located 300 S. Chandler Village Drive. It is open Tuesday-Saturday 10 a.m. to 5 p.m.; Sunday 1-5 p.m. and closed on Mondays. Admission is free.  Find more information on the exhibitions and programming online at Chandler Museum or call 480-782-2717. 
Photo credit: Dan Poush, Johnny on Stage, Wide, January 13, 1968; digital scan from original negative, 20 x 13 3/8 inches; Courtesy of the John R. Cash Revocable Trust, photographed by Dan Poush.
Chandler Museum is an innovative learning environment where the community comes together to share our stories, store our cultural heritage, and experience Chandler as a people and place. The vision of the Museum is to be the community's principal resource to explore its people's history, culture, and place in a rapidly changing world of today – within and without the walls of a building. More information online at Chandler Museum.
About ExhibitsUSA 
This exhibition is toured by ExhibitsUSA, a national program of Mid-America Arts Alliance. ExhibitsUSA sends more than twenty-five exhibitions on tour to over 100 small- and mid-sized communities every year. These exhibitions create access to an array of arts and humanities experiences, nurture the understanding of diverse cultures and art forms, and encourage the expanding depth and breadth of cultural life in local communities. For more about ExhibitsUSA, email or visit ExhibitsUSA. 
About Mid-America Arts Alliance
Mid-America Arts Alliance (M-AAA) strengthens and supports artists, cultural organizations, and communities throughout our region and beyond. We achieve this primarily through our national traveling exhibition programs, innovative leadership development, and strategic grant making. We are especially committed to enriching the cultural life of historically underserved communities by providing high quality, meaningful, and accessible arts and culture programs and services. We believe in more art for more people. Additional information about M-AAA is available at Mid-America Arts Alliance. 
Media contact: 
Jillian Nakornthap
Exhibits Curator, Chandler Museum
480-782-2882