Aug. 23, 2023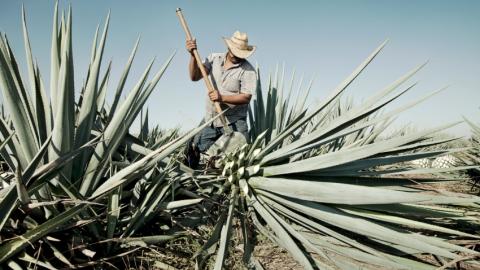 CHANDLER, Ariz. – The "Aliento a Tequila" (or "The Spirit of Tequila") exhibition opens Sept. 1 at Chandler Museum. This exhibition explores and celebrates the landscape, culture, and traditions that gave birth to tequila, Mexico's national drink. In this series, photographer Joel Salcido includes the original distilleries that founded the industry, as well as several artisanal tequileras committed to the traditional ways of making tequila from harvest to bottle.
Since the 1600s, the people of western Mexico have cultivated blue agave from red volcanic soil to make what we know as tequila. Salcido traveled across Mexico's state of Jalisco capturing images of distilleries and artisanal tequileras; blue agave fields at sunset; the agave's pineapple-like centers, called piñas; elegantly shadowed barrel rooms, called añejos; and the agave farmers themselves. Salcido's photographs, together with the Spanish/English captions, reveal not only the tequila-making process but also the region's traditions of culture and religion. "Aliento a Tequila" celebrates a craft that is part of Mexican culture and connects viewers with the labor and place that produces this popular spirit.
The exhibition was curated by Roy L. Flukinger, Independent Curator Emeritus and Past Senior Curator of Photography of the Harry Ransom Center, The University of Texas at Austin. "Aliento a Tequila" is organized by ExhibitsUSA, a program of Mid-America Arts Alliance, and will be on view at the Chandler Museum from Sept. 1 to Oct. 22.
Chandler Museum is located at 300 S. Chandler Village Drive. It is open Tuesday-Saturday 10 a.m. to 5 p.m.; Sunday 1-5 p.m. and closed on Mondays. Admission is free. For more information, visit Chandler Museum or call 480-782-2717.
Photo credit: Joel Salcido, Don Julio: Jimador, 2012; archival pigment ink photograph printed on German Hahnemühle 100% rag paper; 16 x 24 inches, Courtesy of the artist.
About Chandler Museum
Chandler Museum is an innovative learning environment where the community comes together to share our stories, store our cultural heritage, and experience Chandler as a people and place. The vision of the Museum is to be the community's principal resource to explore its people's history, culture, and place in the rapidly changing world of today – within and without the walls of a building. For more information, visit Chandler Museum.
About ExhibitsUSA
This exhibition is toured by ExhibitsUSA, a national program of Mid-America Arts Alliance. ExhibitsUSA sends more than 25 exhibitions on tour to over 100 small- and mid-sized communities every year. These exhibitions create access to an array of arts and humanities experiences, nurture the understanding of diverse cultures and art forms, and encourage the expanding depth and breadth of cultural life in local communities. For more about ExhibitsUSA, email More Art or visit ExhibitsUSA.
About Mid-America Arts Alliance
Mid-America Arts Alliance (M-AAA) strengthens and supports artists, cultural organizations, and communities throughout our region and beyond. We achieve this primarily through our national traveling exhibition programs, innovative leadership development, and strategic grant-making. We are especially committed to enriching the cultural life of historically underserved communities by providing high-quality, meaningful, and accessible arts and culture programs and services. We believe in more art for more people. For additional information, visit M-AAA.
Media contact:          
Jillian Nakornthap
Exhibits Curator, Chandler Museum
480-782-2882