Sept. 13, 2022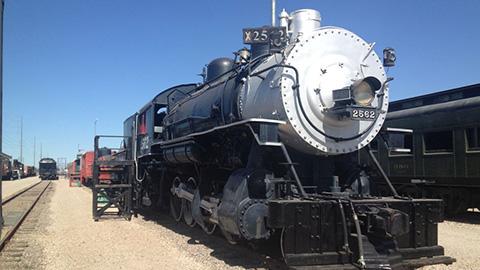 CHANDLER, Ariz. – Train lovers, history buffs and people of all ages are invited to climb aboard and explore the glory days of local and long-distance travel on America's railways during the Fall Rail Festival in Chandler. The celebration is on Saturday, Nov. 12, 2022 from 9 a.m.- 4 p.m. at the Arizona Railway Museum, 330 E. Ryan Road. The free public event is hosted each year by volunteers of the museum, which is located on the southwest corner of Tumbleweed Park in Chandler.
The Fall Rail Festival will include displays of artifacts and memorabilia, tours of vintage railcars and a large sale of railroad books, magazines, and timetables at very affordable prices. Food and beverages will be available for purchase.
Visitors will learn about the historical importance of railroads from museum volunteers who will explain the type of work that is required to restore and refurbish these railcars to keep them "alive" as a testament to the glory days of rail passenger travel. Several cars feature interior displays of the typical accommodations for the travelling public, including seating, sleeping arrangements, and dining facilities, complete with custom-made railroad dining car china.
The museum's diesel locomotive will be open, affording visitors the opportunity to blow the horn, and Chandler's historic #2562 steam locomotive also will be on display. Outdoor displays will include a wide variety of railroad signs, signals, and mining equipment.
The museum's standard entrance fee is waived for Fall Rail Festival. However, donations from the public and local businesses are greatly appreciated. Visitors should access the event on Ryan Road, from Arizona Avenue or McQueen roads. Parking is free. Although the display building and restrooms are ADA Compliant, due to the historic nature of the equipment, access to the railroad cars is not ADA Compliant.
The Arizona Railway Museum is normally open from 10 a.m.-4 p.m. on Saturdays and Sundays, September through May. It is closed during the summer. For more information, visit the Arizona Railway Museum or call 480-821-1108.
Media Contacts:
Steve Whisel
Arizona Railway Museum Curator
480-821-1108
Toni Smith
City of Chandler, Communications Manager
480-782-2701