March 23, 2023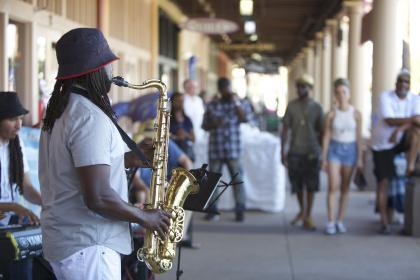 CHANDLER, Ariz. – Celebrating Jazz Appreciation Month is an annual tradition in Chandler. This year, there are even more events in multiple locations to reach music lovers throughout the City with the addition of the Jazz on the Move and Young Artist Jazz Showcase concert series in April.
First up is the Chandler Jazz Festival, March 30 - April 2, featuring local and national artists. There will be bands playing throughout Downtown Chandler during all four days of the festival. The locations for the sidewalk bands are New Square (located between Arizona Avenue and Oregon Street, north of Chicago Street), and in front of d'Vine Gourmet, Saba's Western Wear, Crust Simply Italian and in Dr. A.J. Chandler Park West. All venues are within walking distance of each other.
On Saturday, April 1, there will be even more music from local and national artists at the Main Stage, located at Dr A.J. Chandler Park: Stage Plaza, 178 E. Commonwealth Ave.
Live jazz music can be enjoyed at the following times:
Thursday, March 30:

New Square and sidewalk bands from 5:30 - 7 p.m.

Friday, March 31

: Sidewalks bands from 5 - 7 p.m. and bands inside downtown establishments from 7 - 11 p.m. with an after-hours jam session at West Alley BBQ

Saturday, April 1

: Downtown Farmers Market from 9 a.m. to 1 p.m.; Sidewalk bands from 2 - 4:30 p.m.; New Square from 3 - 5 p.m.; Main Stage as follows:
5 p.m. | Fred Boswell & Friends: "Gospel, Chick and Glasper"
6:10 p.m. | Fred Forney and West-by-Northwest: "Music of Miles "
7:30 p.m. | Dennis Rowland & Diana Lee: "From Basie to Wonder"
9 p.m. | The Dan Wilson Trio with Pat Bianchi and Lewis Nash
Sunday, April 2

: Sidewalk bands from 11 a.m. to 1 p.m.
Event attendees are encouraged to visit one of Downtown Chandler's many restaurants and bars before and after they listen to their favorite bands. On Saturday at the Main Stage, there will also be vendors selling food and non-alcoholic beverages. Guests can bring their own blankets and lawn chairs on Saturday, as well as sealed bottled water and snacks. Alcohol is prohibited at the Main Stage. See the event website for more details on what to bring.
The complete Chandler Jazz Festival entertainment schedule is available online at chandleraz.gov/jazz.
New this year, the City of Chandler is inviting the community to experience jazz music in a different way.
Jazz on the Move is a concert series that will bring music into Chandler neighborhoods. These Tuesday and Thursday evening performances will take place on the following dates and locations from 5:30 - 7 p.m.
Tuesday, April 4 - Alice Tatum Quartet, Desert Breeze Park, 660 N. Desert Breeze Blvd.

Thursday, April 13 - Band TBD, Shawnee Park, 1400 W. Mesquite St.

Tuesday, April 18 - Ioannis Goudelis Trio, Chandler Museum, 300 S. Chandler Village Drive

Thursday, April 27 - Jazz Con Alma Featuring Beth Lederman, Veterans Oasis Park, 4050 E. Chandler Heights Road
On Tuesday, April 18, the Chandler Museum will extend their operating hours to 7:30 p.m., for attendees to visit the exhibits and the Museum Store.
To experience the future of jazz, don't miss the Young Artist Jazz Showcase concert series at Dr. A.J. Chandler Park West, 3 S. Arizona Ave. Hear the talents of musicians under the age of 21 at these Wednesday night shows, from 5:30 - 7 p.m.
April 5 - Nash Legacy Blue Ensemble

April 12 - Young Sounds of Arizona

April 19 - 32nd Street Band

April 26 - Nash Jazz DivAZ and Nash Legacy Redd Ensemble
The 23rd Annual Chandler Jazz Festival is presented by the Downtown Chandler Community Partnership, The Nash, West Alley BBQ, WM of Arizona, and the City of Chandler. 
Media contact:
Toni Smith
City of Chandler, Marketing and Communications Manager
480-782-2701