Sept. 1, 2023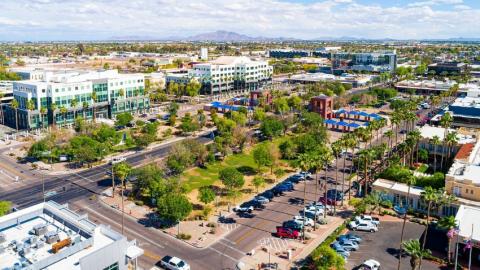 CHANDLER, Ariz. – The Downtown Art Walk is coming to Chandler this fall.
Attendees can stroll through Downtown Chandler and purchase works from local artists in a variety of mediums from jewelry to photography. The art walk will take place every other Sunday from 11 a.m. to 2 p.m. on the following dates: Sept. 24, Oct. 8, Oct. 22 and Nov. 5.
"The Downtown Art Walk was a popular event in Chandler a few years ago," said Vice Mayor Matt Orlando. "I am pleased that the City of Chandler was able to work with the Downtown Chandler Community Partnership to bring it back and give residents and visitors just one more reason to visit our unique downtown."
Artist booths will line several streets, including Boston Street, and on the east side of the Arizona Avenue in Dr. A.J. Chandler Park, along Commonwealth Avenue and San Marcos Place.
Guests can also enjoy the restaurants and shops in downtown during their visit to this free event. There is ample free parking, including five garages on the east and west of Arizona Avenue. 
For more information, or to submit a vendor application, visit Downtown Chandler Community Partnership.
Media Contact:
Toni Smith
Marketing and Communications Manager
480-782-2701