May 21, 2020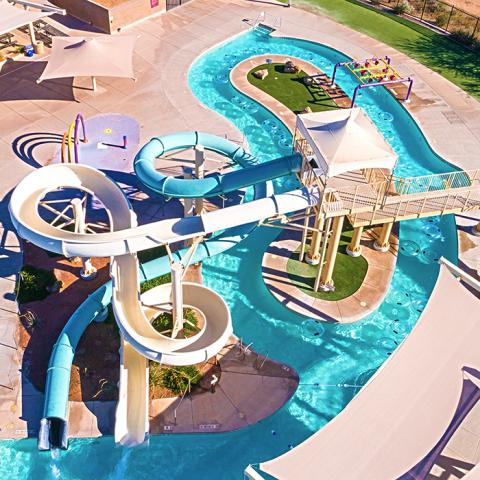 The City of Chandler Aquatics Division will open two facilities for limited public swim hours – with pre-registration required – for the Memorial Day holiday weekend and the first weekend in June. A new online registration process that gives Chandler residents priority access will help limit capacity at each facility. Limiting the number of people at each site will serve as a social distancing measure for public health considerations.
Mesquite Groves Aquatic Center in southeast Chandler and Folley Pool in Downtown Chandler will each host two, two-hour public swim blocks each day – noon-2 p.m. and 3-5 p.m. – May 23-25 and May 30-31. Capacity at Mesquite Groves will be limited to 180 people for each two hour block, and Folley Pool will have a maximum of 75 people allowed. Folley Pool is located at 600 E. Fairview St. and Mesquite Groves Aquatic Center is located at 5901 S. Hillcrest Drive.
Registering for both blocks is allowed, however the hour break between sessions will be used to clean and disinfect the facility and highly touched surfaces, and no patrons or personal items will be allowed on the pool deck. Each person visiting the pool will have to be individually registered. For example a family of six will have to register each parent and all four children for that time slot.
The registration will be done through the ActiveNet system. At this time, you must be a Chandler resident to register, and you will be required to show proof of address when checking in at the pool. Registration will open at 6 p.m. the prior day and close 30 minutes before a session start time.
Non-residents will be allowed in the facility if capacities are not met. However, Chandler Aquatics highly encourages guests to check the activity's enrollment online before going to a facility. If a particular session is full, there will be no openings available for walk-up customers.
All of Chandler's six aquatic facilities will resume normal business hours (at limited capacity) on Saturday, June 6. Locations, hours of operation and additional details will be posted on the Aquatics website.
During this challenging period caused by COVID-19, the City of Chandler asks the public to please be considerate of our staff and other guests inside our facilities and practice healthy hygiene and social distancing.
If you have any questions or concerns, contact Chandler Aquatics at 480-782-2749.