May 1, 2023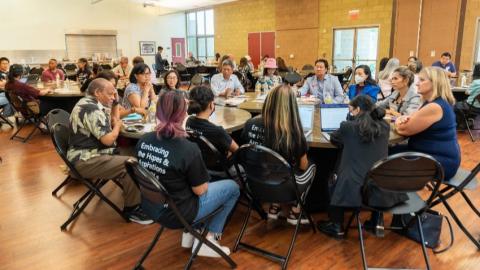 CHANDLER, Ariz. – The City of Chandler's Diversity, Equity & Inclusion (DEI) Division is recognizing the contributions of the City's fastest growing population during Asian American and Pacific Islander (AAPI) Heritage Month. The public is encouraged to attend the following events to celebrate and learn more about Chandler's Asian community and its culture.
Saturday, May 20 – 2nd annual Asian American Community Conference at Tumbleweed Recreation Center, 745 E. Germann Road, from 8-11:30 a.m. The free conference brings together experts and leaders from the local community and provides an opportunity to connect, listen, learn and engage in meaningful dialogue. This year's theme will be Total Wellness and the AAPI community.





The featured keynote speaker is Lily Chen, a registered nurse and Certified Nurse Educator by the National League of Nursing. She is a lecturer at the Department of Nursing, North Carolina Central University NCCU, and a Ph.D. student at University of North Carolina Chapel Hill.



An experienced panel of experts will discuss several important topics impacting the AAPI community and attendees can participate in roundtable discussions with other community members and City leaders. Panelists include: Chung Trinh, chief executive officer, Lighthouse Psychiatry; Lan Hoang, operations director, Arizona Asian American Native Hawaiian and Pacific Islander for Equity; Tanushree Ghosh Dhall, author/advocate; Dr. Lionel Lee, emergency room physician.



Seating is limited and attendees must register online at

Chandler AAPI

. A light breakfast also will be provided.
The Chandler Public Library (CPL) also invites the community to celebrate Asian American and Pacific Islander Heritage month with a special Family Storytime at its four branches. Each program is appropriate for all ages that includes an interactive storytime with a special guest reader and a craft station.
Friday, May 12 – Asian Heritage Family Storytime at Basha Library, 5990 S Val Vista Drive, from 10-10:45 a.m.
Tuesday, May 16 – Asian Heritage Family Storytime at Sunset Library, 4930 W. Ray Road, from 9:15-10:15 a.m.
Wednesday, May 17 – Asian Heritage Family Storytime at Hamilton Library, 3700 S. Arizona Ave., from 10-10:45 a.m.
Thursday, May 18 – Asian Heritage Family Storytime at the Downtown Library, 22 S. Delaware St., from 10-11 a.m.
CPL staff also has a list of book picks in honor of AAPI Heritage Month for older and younger kids. Check it out at Chandler AAPI.
For more information about AAPI Heritage Month or to register for the Asian American Community Conference, visit Chandler AAPI. Residents also may contact Adrianna Erickson with the City's DEI Division at 480-782-2224 with questions.

Media contact:          
Stephanie Romero   
City of Chandler, Public Information Officer
480-782-2231