Sept. 30, 2021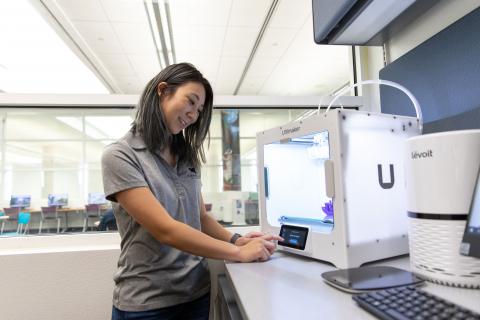 CHANDLER, Ariz. – Makers get ready to make, create, and innovate. Thanks to a grant from the Library Services and Technology Act and the support and enthusiasm from Chandler City Council, Chandler Public Library will officially open its new makerspace, The Makery, Tuesday, Oct. 12. Community members of all ages are invited to tour the space, experiment with its tools, participate in hands-on crafts, and enjoy refreshments from 4:30 – 7 p.m., at the Chandler Downtown Library, located at 22 S. Delaware St. Mayor Kevin Hartke joins special dignitaries at 5 p.m. for the official ribbon cutting and opening remarks.
The Makery is a state-of-the-art space where the community can turn an idea into reality, develop a product or start a business, and create something they only dared to dream up – all while growing their own skills and finding their passions. Located on the second floor of the Downtown Library, the 981 square foot creative space is outfitted with three inventive areas: The Programming Room, The Lab, and The Studio. Upon completion of mandatory orientation sessions, makers will have access to emerging technology and traditional fabrication equipment.
"We are proud to offer these incredible tools and resources in a space that helps our community members unleash their potential," said Rachelle Kuzyk, Library Manager. An incredible intersection of creativity, art, culture, design, science, and technology, "the Makery will enhance the library's ability to create learning opportunities for all in a rapidly evolving creative, scientific, and technical landscape."
The Makery will serve as an idea lab and creation space for the community, especially teens, to explore their creativity and cultivate their imaginations in interactive, hands-on ways. Creators will have access to tools and materials for audio and video content creation, crafts, textile design, digital photography, and 3D printing.
The future of making, The Makery is poised to nurture opportunities for the next entrepreneur, inventor, or artist to emerge.
The celebration also includes an opportunity to see the results of the 2021 Building Bridges oral history project conducted at The Makery. Guests can explore the documented stories from Chandler's African American community. This project was supported by the Arizona State Library, Archives & Public Records, a division of the Secretary of State, with federal funds from the Institute of Museum and Library Services.
For more information, call the Downtown Library at 480-782-2800.
Media contact:
Tiffanie Hawkins
Marketing & Communications Coordinator
480-782-2910