May 12, 2023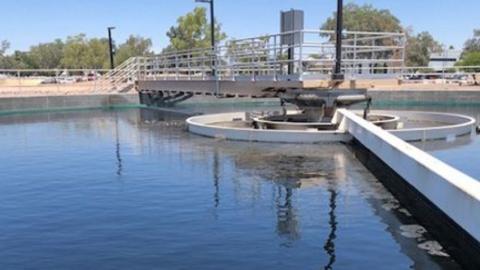 CHANDLER, Ariz. – Chandler City Council took action to move one step closer to fulfilling an innovative water project to recharge Chandler's local aquifer, accessible through an extensive network of groundwater wells.
The City Council authorized the sale of storage capacity at the New River Agua Fria River Underground Storage Project to the City of Avondale at the Council Meeting on May 11. This action is one step in the plan to transition from aquifer replenishment at the West Valley facility and instead deliver more water to benefit Chandler's local aquifer when the new Reclaimed Water Interconnect Facility (RWIF) is completed. The City's sustainable aquifer management goals prioritize aquifer replenishment in close proximity to groundwater pumping.
In 2007, the City of Chandler partnered with Salt River Project (SRP) and several other cities in the construction of the New River Agua Fria Underground Storage Project (NAUSP) in Glendale, Ariz. Chandler owns 22.8% of the NAUSP storage entitlement and utilizes the facility for aquifer recharge to meet state regulatory requirements for groundwater replenishment.

Last summer, Chandler City Council approved the innovative RWIF project that is now under construction. When the RWIF is completed in 2024, Chandler will have the capability to deliver up to five million gallons of water per day to the Tumbleweed Park Recharge Facility instead of the underground storage facility in Glendale. This allows Chandler to prioritize aquifer replenishment deliveries in the same groundwater subbasin where the City's network of wells are located.
In preparation for this transition, the City of Avondale will purchase 18% of Chandler's 22.8% NAUSP storage entitlement. Chandler will retain 4.8% storage, allowing for operational flexibility when additional recharge capacity may be needed.
Chandler will lease back 8% of that storage capacity from Avondale through 2026. This temporary lease back period provides a transitional time during the completion of new conveyance infrastructure to deliver additional water to the Tumbleweed Park aquifer injection wells.
The sale to Avondale involves transferring 18% of Chandler's storage entitlement in NAUSP but does not involve the transfer of any long-term water storage credits. There is no impact to Chandler's extensive portfolio of long-term storage credits. The purchase price, approximately $5.7 million, will be deposited into Chandler's water enterprise fund to help support future projects, thereby minimizing future utility rate increases to keep Chandler's utility rates low.
Media contact: 
Toni Smith, Marketing and Communications Manager
480-782-2701