Sept. 22, 2023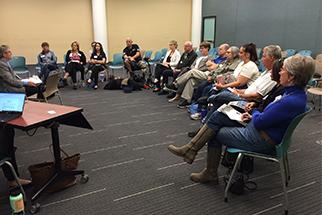 CHANDLER, Ariz. — The city's Community Development & Resources Division, in partnership with Crescendo Consulting Group, is conducting a series of focus groups for Chandler residents to get the public's input on ways to better serve the community now and in the future. Input from residents is critical to develop solutions that address human service issues impacting Chandler. 
The virtual and in-person focus groups will be held the week of Sept. 25:
Tuesday, Sept. 26, 10 - 11:30 a.m. via Zoom
Wednesday, Sept. 27, 6 - 7:30 p.m. via Zoom

Thursday, Sept. 28, 12:30 - 1:30 p.m. | In-person focus group for individuals ages 55+ at the Chandler Senior Center, 202 E. Boston St. 

Thursday, Sept. 28, 2:30 - 4 p.m. | In-person focus group at the Downtown Chandler Public Library, 22 S. Delaware St. 
Residents who can't attend a focus group may take an online survey available through 5 p.m. Friday, Oct. 13: Community Needs Assessment Survey. 
Insights gathered from the focus groups will be used to draft Chandler's community needs assessment, which determines the human service needs of Chandler residents, including those who are low- and moderate-income. The needs assessment also will identify barriers and gaps that prevent Chandler residents from accessing resources and services. 
If you have any questions about the survey or community needs assessment, please contact Crescendo Consulting Group.

Media contact:    
Stephanie Romero
City of Chandler, Public Information Officer
480-782-2231