Oct. 7, 2021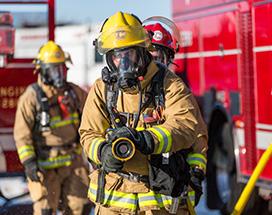 CHANDLER, Ariz. – The Chandler Fire Department will host a free open house for the public from 9 a.m. to Noon on Saturday, Nov. 6, 2021, at Fire Station No. 10, 5211 S. McQueen Rd. This event is part of the Chandler Fire Department's ongoing efforts to educate residents about its services and share safety, fire prevention and emergency preparedness information with residents.
Saturday, Nov. 6, is the perfect date to gather together and "Learn the Sounds of Fire Safety," which is the theme for the 2021 National Fire Prevention Week.
In addition to tours of the station, there will be a fire truck, ambulance and apparatus displays, and demonstrations of emergency medical services. Blood pressure checks will be available, along with drowning prevention information. The Fire Safety House display will give children hands-on instruction on how to get out of a smoke-filled environment. Free balloons and fire helmets will be available for children. 
This open house will feature instruction on Hands-Only cardiopulmonary resuscitation (CPR), which, when performed by a bystander, is as effective as "conventional" CPR in emergencies at home, work or in public. There are only two steps to remember: Call 911 and push hard and fast in the center of the chest.
Fire Station No. 10 is located on the east side of McQueen Rd. between Chandler Heights and Riggs roads. For more information about the open house, please call 480-782-2120 or go online to Chandler Fire.