Dec. 22, 2020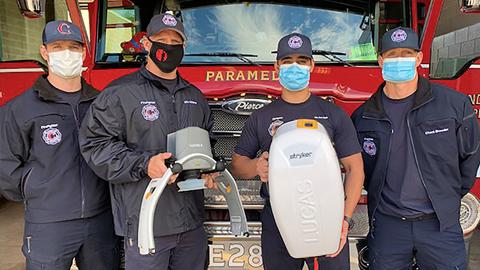 The Chandler Fire Department has been awarded a $14,656.94 grant that will be used to purchase an automatic chest compression system, fulfilling a critical need within the department and helping to keep all community members safe.
The grant is from the Firehouse Subs Public Safety Foundation and was one of 102 awarded to public safety organizations across the country during the most recent grant application period. The 102 grants total more than $2.1 million. Firemen founded the sandwich chain and they established the foundation in 2005 to help ease the burden of fire departments, law enforcement and other emergency service entities.
The automatic chest compression device will be used to treat cardiac arrest incidents through the administration of perfect CPR compressions. This equipment will ensure that Chandler residents can receive the highest quality of cardiac care available, while also providing a safer environment for Chandler Firefighters during patient transports.
"We greatly appreciate the generosity and support of Firehouse Subs and their customers," said Chandler Fire Chief Tom Dwiggins. "They are demonstrating their commitment to our community, and this donation will help Chandler paramedics save lives."
Robin Peters, executive director of the Firehouse Subs Public Safety Foundation said, "We are committed to helping organizations such as the Chandler Fire Department continue their lifesaving work within local communities. We are honored to be able to award this grant and do our part to ensure that Chandler is safer for everyone, including first responders."
To donate and learn more about the foundation, visit Firehouse Subs Public Safety Foundation. For more information about the Fire Department, visit Chandler Fire.
About Firehouse Subs Public Safety Foundation: 
In 2005, the Firehouse Subs Founders established the 501(c)(3), nonprofit Firehouse Subs Public Safety Foundation. The charity provides funding resources, lifesaving equipment, prevention education, training and disaster relief support to first responders and public safety organizations. Since inception, Firehouse Subs Public Safety Foundation has granted more than $53 million to hometown heroes in 49 states and Puerto Rico.
Firehouse Subs Public Safety Foundation is honored to be listed by Charity Navigator as a four-star nonprofit organization, their highest designation. Grant allocations are made possible thanks to the overwhelming support of Firehouse Subs restaurants and generous donors. More than 70% of the funds raised for the Firehouse Subs Public Safety Foundation come from the generosity of Firehouse Subs guests and the restaurant brand.
Photo caption:
The Chandler Fire Department Engine 283 crew holds the automatic chest compression device purchased for the department through a grant from the Firehouse Subs Public Safety Foundation.

Media contact: 
Keith Welch, Battalion Chief (PIO)
Chandler Fire Department
480-782-2169