Jan. 24, 2023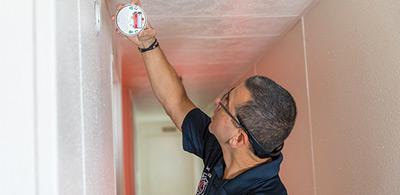 CHANDLER, Ariz. – On Saturday, Feb. 11, 2023, Chandler firefighters will join with volunteers from the community to walk door-to-door through Chandler neighborhoods near Arizona Ave. and Frye Road to install free smoke alarms in homes that need them, as well as provide educational information on fire safety to residents. Volunteers are needed for the Community Smoke Alarm Installation program, which is a great team building opportunity for businesses and organizations.
The program is a collaborative effort among the Chandler Fire Department and the Arizona Burn Foundation, American Red Cross, and several other East Valley fire departments. Select neighborhoods in Chandler, Tempe and Mesa have been notified that they will be visited by teams of three people who will offer to install free smoke alarms.
Volunteers are needed from 8 a.m. to 1 p.m. No experience is necessary, and all training, tools and materials are provided that day. Both installers and record keepers are needed.
To make a difference in your community, register online at the Arizona Burn Foundation website. Select the Chandler event on Feb. 11 and sign up. Once you have registered, the event details will be sent to you, including the location to meet that morning and what you can expect.
If you have any questions, please call the Arizona Burn Foundation at 602-230-2041, ext. 104. Information is also available on the Chandler Fire website.
Media contact:
Battalion Chief Carlos Vargas, Chandler Fire Department PIO
480-782-2130