Nov. 23, 2021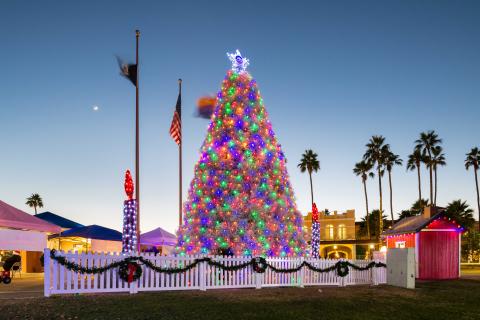 Chandler's nostalgic family holiday experience is back with the lighting of its iconic Tumbleweed Tree.
Now in its 65th year, the tree still stands as the City's seasonal centerpiece, reflecting the resourcefulness and uniqueness of its residents. This year, the tree will be lit for the first time on Saturday, Dec. 4, and remain on display through Sunday, Jan. 2, 2022.
The holiday spectacular begins at 4:30 p.m. on Dec. 4, and the actual tree lighting will happen around 8 p.m., with the event set to end at 9 p.m.
5 facts about the Tumbleweed Tree:
The tree is 35 feet tall and 20 feet wide.

Nearly 1,000 tumbleweeds covered in 80 pounds of glistening glitter, 45 gallons of white paint and 35 gallons of fire retardant make up the tree.

The tree is wrapped in more than 1,200 LED lights.

Known nationwide, the iconic tree has been featured on several Travel Channel shows and Saturday Night Live.
How to watch the parade?
Bringing holiday cheer in the form of festive floats, dancing elves, Santa (and his firetruck), and millions of twinkling lights, the Parade of Lights is a holiday staple in Downtown Chandler.
The festive processional steps off at 6:45 p.m., heading south down Arizona Ave., bringing more than 15,000 spectators between City Hall and Chandler High School.
A little advance preparation helps onlookers get the best views. Arrive early to grab a seat along the route and be sure to bring your chairs and blankets.
If you can't make it out to the event, catch all the action on the City of Chandler Facebook page where the parade is live-streamed. 
Where to park?
As the City prepares to kick off the holiday season, guests are reminded that several streets in the downtown area will be closed to traffic from 2:30-10 p.m. Below are the closures scheduled:
2:30-8:30 p.m.

Arizona Avenue closed between Frye Road and Pecos Road

6-8:30 p.m.

Frye Road restricted from Washington Street to California Street

2-10 p.m.

Arizona Avenue closed between Frye Road and Chandler Boulevard

6-9 p.m.

Chandler Boulevard restricted from Delaware Street to California Street

6-9:30 p.m.

Arizona Avenue closed between Chandler Boulevard and Galveston Street 
Guests attending the event are encouraged to arrive early to find parking. There are multiple locations with free parking, including four parking garages along Arizona Avenue, including the newest and largest garage, Oregon Street.  
Several other smaller streets in the downtown area also will be closed or restricted during the festivities. For more information showing street closures, parking options and general event information, visit Tumbleweed Tree Lighting Ceremony.
What to do at the event?
A carnival-like atmosphere welcomes holiday revelers of all ages throughout the evening, and it's totally free. Folks can stop by and write letters to Santa, pose with the acclaimed Tumbleweed Tree, and more. The inflatable bounce area offers merriment for all ages and requires the purchase of attraction tickets, $1 per ticket.
A star-studded line-up of energizing local talent provides plenty of live entertainment and the soundtrack for the night.
The City of Chandler presents the 65th Annual Tumbleweed Tree Lighting & Parade of Lights in partnership with American Furniture Warehouse, APS, Chandler Lions Club, Waste Management and Homelight.
More information on these activities, plus a complete entertainment schedule, is available at Tumbleweed Tree Lighting Ceremony.
Media contact:
Tiffanie Hawkins
Marketing & Communications Coordinator
480-782-2910