Sept. 9, 2022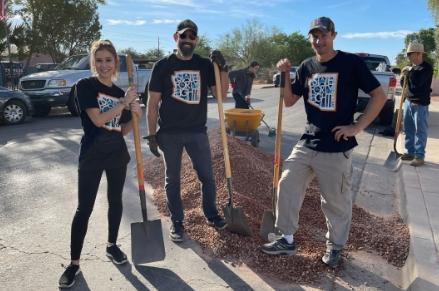 More than 1,000 volunteers are needed on Saturday, Oct. 22, for Chandler's annual For Our City Day, a local event held on national Make a Difference Day.
Each year for For Our City Day, the City's Neighborhood Programs Office organizes community volunteers from multiple nonprofit organizations and businesses to support a Chandler (non-HOA) neighborhood on a variety of exterior improvement projects. This year's selected neighborhood is Pepperwood, which is located near the intersection of Country Club Way and Chandler Boulevard, near Chandler Fashion Center. 
For Our City Day is scheduled from 7 a.m. to noon, Saturday, Oct. 22. Check-in will begin at 6:30 a.m. and volunteers will begin their projects shortly after check-in.  Volunteers can view of list of projects needed to be completed and sign-up online at For Our City Day. Some of the work needed will include yard work, alley cleanup, landscaping and painting the exterior of homes. 
Large roll-off containers also will be available throughout the surrounding neighborhood to dispose of litter and debris.
After the projects have been completed, there will be a community celebration from noon until 2 p.m. at Harter Park, 665 N. Country Club Way, Chandler. Volunteers and residents of Pepperwood are encouraged to attend the celebration for complimentary lunch, raffles, giveaways, community resources and more. Nonprofits and businesses have an opportunity to host a booth during the post-event celebration. For those interested in participating, contact Neighborhood Programs staff at neighborhood.programs@chandleraz.gov.
Event sponsors for this year's For Our City Day include Home Depot, Salvation Army, Sherwin-Williams, SRP, VIAVI Solutions, Waste Management, and Resurrection Ministry.
To view volunteer or sponsorship opportunities available, visit For Our City Day. For more information about the annual For Our City Day, or discuss how you can get involved, contact Priscilla Quintana at 480-782-4348, or Tawna Mower at 480-782-4362, or email neighborhood.programs@chandleraz.gov.
 
Media contact:        
Stephanie Romero
City of Chandler, Public Information Officer
480-782-2231