April 29, 2022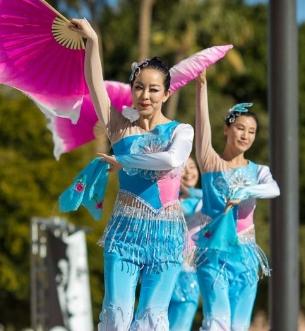 CHANDLER, Ariz. – The City of Chandler's Diversity, Equity & Inclusion (DEI) Division is recognizing the contributions of its fastest growing minority population during Asian American and Pacific Islander (AAPI) Heritage Month. The public is encouraged to attend the following events to celebrate and learn more about Chandler's Asian community and its culture.
Saturday, May 7 – Inaugural Asian American Community Conference at Tumbleweed Recreation Center, 745 E. Germann Road, from 9 a.m. to noon. The Experts and leaders from the local community and across the nation have converged to create an innovative community engagement curriculum that seeks to build bridges between institutions and members of Chandler's Asian American community. Through diverse expert panelist presentations and engaging table discussions, the inaugural Asian American Community Conference is primed to strengthen connections across all populations. The conference is free to attend, but participants must register online.
The featured keynote speaker will be Retired Arizona Superior Court Justice Paul Tang. Panelists include:
Dr. Albert Celoza - Board President, Asian Pacific Community in Action (APCA-AZ) and Academic Director, International Studies Program, Phoenix College

Dr. Kayong Holsten - Professor of Business at Ottawa University

Haipei Shue - President of United Chinese Americans
The Chandler Public Library (CPL) invites the community to celebrate Asian American and Pacific Islander Heritage month with a special Family Storytime at its four branches. This is a 45-minute program appropriate for all ages that includes stories, songs and other activities. Please note, for everyone's safety and comfort, the program is limited to 40 people and requires a ticket for entry. Tickets will be available 15 minutes before the program starts and will be given out on a first-come, first-served basis. Everyone in your party (each child and adult) must be present to receive a ticket. Due to limited capacity, tickets will not be issued to day care or preschool groups.
Tuesday, May 17 – Asian Heritage Family Storytime at Sunset Library, 4930 W. Ray Road, from 9:15-10 a.m. The featured book for this storytime will be "A Big Mooncake for Little Star" by Grace Lin.
 
Wednesday, May 18 – Asian Heritage Family Storytime at Hamilton Library, 3700 S. Arizona Ave., from 10-10:45 a.m. The featured book will be "Amy Wu and the Perfect Bao" by Kat Zhang.
 
Thursday, May 19 – Asian Heritage Family Storytime at the Downtown Library, 22 S. Delaware St., from 10-10:45 a.m. The featured the stories will be "Amma's Market Day in India" by Meera Sriram, and "The Proudest Blue" by Ibtihaj Muhammad with S.K. Ali. 
 
Friday, May 20 – Asian Heritage Family Storytime at Basha Library, 5990 S. Val Vista Drive, from 10:15-11 a.m. The featured story will be "Eyes That Kiss in the Corners" by Joanna Ho.
The month's activities will wrap up with an Asian Heritage Cultural Showcase on Saturday, May 21, at the Chandler Downtown Library, 22 S. Delaware St., from 11 a.m. to 1 p.m. Bring the family to the Asian Heritage Cultural Showcase, featuring cultural performances from India, China, and the Philippines. Watch local dancers showcase their talents and learn about each unique culture. Following the performances, experience some fun hands-on activities connected to the vibrant and creative cultures of Asia. This CPL program is supported by the City of Chandler Diversity, Equity & Inclusion Division, with partners from Chandler's Asian American community.

For more information AAPI Heritage Month, visit Chandler Diversity Events or residents can contact Cisco Luzania with the City's DEI Division at 480-782-4367.

Media contact:          
Stephanie Romero   
City of Chandler, Public Information Officer
480-782-2231