March 8, 2019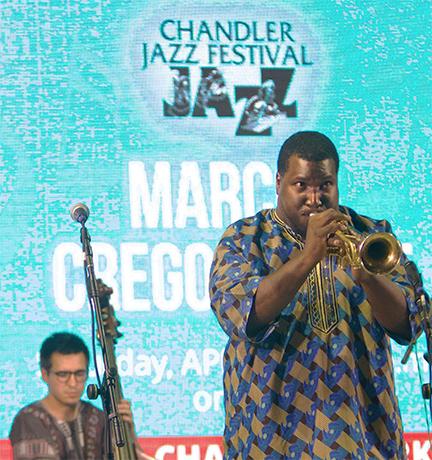 The Chandler Jazz Festival returns to Downtown Chandler Friday, April 5, and Saturday, April 6, for its 20th anniversary celebration as one of the top free music festivals in the Valley. In recognition of jazz from the past, present and future, the two-day festival features more than 75 artists and a performance zone that will span four Downtown Chandler blocks along Arizona Avenue, between Boston and Buffalo streets.
"In celebration of 20 years of grooving good times, this year's festival looks back at the people, places and music that have built and continue to build Arizona's jazz culture," says Hermelinda Llamas, event coordinator. "Fans can expect the best of Arizona and beyond. It's truly a celebration of community and music."
Live jazz hits the Downtown Chandler Stage from 5-10 p.m. both days, bringing an impressive lineup of talent performing blues, smooth jazz and fusion rhythm.
Each night the main stage culminates with must-see sets by renowned musical legends, including Guitarist Bob Fahey Friday evening and the Dizzy Gillespie All-Stars with special guest Jon Faddis on Saturday evening. Other notable performers include: Carmela y Más, Bluesman Mike & The Blues Review Band, Running from Bears Plays SuperSax and Chandler High Jazz Ensemble.
The complete festival entertainment schedule is available online at chandleraz.gov/jazz. The free, family-friendly event boasts more than 20 hours of Arizona's best blues and jazz.
Gates open 30 minutes prior to the event each evening and festivalgoers are encouraged to bring blankets and lawn chairs to the outdoor concert. This is a smoke-free event and attendees are prohibited from bringing outside food and beverages, large umbrellas, awnings and canopies, animals (service animals allowed) and weapons.
Excellent "eats and sips" also are on tap for the jazz fete. Guests 21 years and older can cool off with a refreshing beverage in the festival's music-infused beer and wine garden. Music lovers can expect a new fusion cuisine on-site in celebration of the festival's anniversary.
Soundbite AZ, part food truck, part mobile radio station, brings together two longtime Valley favorites: Short Leash Hot Dogs and National Public Radio member station KJZZ-FM. Enjoy jazzy dogs and grab hold of the mic to discuss your favorite jazz fest memories.
Of course, the festival is about more than just music, food and drinks; the Downtown Chandler Community Partnership and Chandler Arts Commission invite festivalgoers to dig deeper into the art of jazz, with dozens of exhibitors showcasing painting, photography, custom jewelry and more.
The 20th Annual Chandler Jazz Festival is presented by the Downtown Chandler Community Partnership, Phoenix Blues Society, The Nash, Waste Management, Jimmy Johns and the City of Chandler. 
Tune in for the latest on Chandler Jazz Festival, by following us on Facebook @ChandlerJazzFestival.