Oct. 6, 2020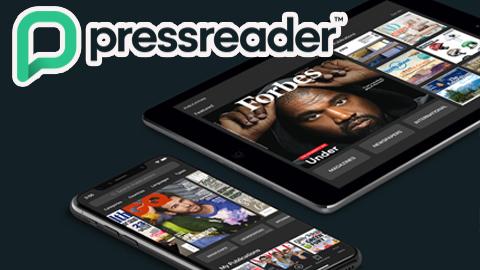 Chandler Library card holders have a new digital media resource, PressReader, that provides access to global newspaper and magazine content, in its original format and language. That means users can see their newspaper of choice, as if they were holding the paper in their hands, and as soon as it's available online, without a subscription or a fee.
PressReader delivers an endless stream of top news stories right to your mobile device or desktop computer. That's more than 6,000 newspapers and magazines from more than 120 countries at your fingertips to read at your convenience each day. With publications in 60 different languages offered, you can read a newspaper or magazine in your native language or practice your secondary language comprehension. Imagine how PressReader can change your bus ride to work each day, or a child's homework assignment to learn about current events in another country.
"Chandler is a dynamic community, attracting businesses and people from all over the world, and they will now be able to easily read news from home, wherever that may be," said Library Manager Rachelle Kuzyk. "Right now, while travel is so restricted and difficult, this is a welcome service that will give many users the opportunity to connect with their hometown newspaper, or their native country and in their natural language."
PrintReader offers library card holders the latest full issues from publications you know and trust, like the LA Times, The Guardian, China Daily, Bloomberg Businessweek, New York Daily News, Miami Herald and more. Also included are high-value pop culture magazines like Elle, Rolling Stone, New York Mag, O – The Oprah Magazine, Cosmopolitan, Esquire, Vogue, Bloomberg and GQ.
PressReader users can save publications to read later, listen to their content out loud, and instantly translate up to 19 different languages. Publications are available in the original print layout or in a text-view mode designed for easy reading on a mobile device. The technology also is sustainable, meaning less waste and more trees saved, which supports Chandler Library sustainability initiatives without compromising quality, and users know they are doing their part to preserve our planet's resources.
Accessing PressReader is easy if you have a Chandler Public Library card. Download the PressReader mobile app or visit the PressReader website, and choose "Libraries and Groups" to log in (not Facebook or other accounts). Then choose Chandler Public Library and enter your library card and PIN numbers. If you're in the library, you won't even have to log in; the four Chandler Library locations are hotspots that allow everyone free access to PressReader.
If you don't have a Chandler Public Library card, you can sign up for an eCard at chandlerlibrary.org/get-a-library-card to get access to online resources, including PressReader. eCards are available to all Maricopa County residents. An eCard can also be upgraded at any time to a full-access card that allows checkout of books and other physical materials.
For more information regarding PressReader or library resources, go to chandlerlibrary.org, call 480-782-2800, or visit one of the four Chandler Public Library locations during regular business hours.