Dec. 23, 2020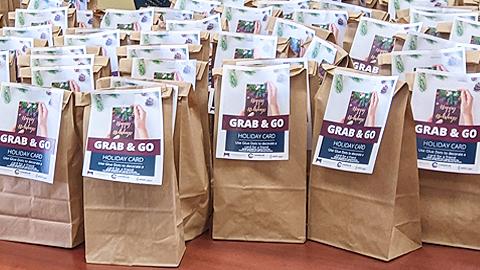 As an unpredictable and chaotic year comes to an end and a promising new year approaches, Chandler residents are reminded that all four Chandler Public Libraries offer online, in-person and take-home resources to help people of all ages cope, learn and grow through the ongoing disruptions, distractions and social isolation.
With a library card or an ecard, you have access to print books, eBooks, audiobooks, digital magazines, music and entertainment streaming services, an extensive selection of online databases and much more, including access to computers and printing services. Each Chandler Library facility also has a dedicated staff ready to help you find what you are looking for.
Here are some of the other programs and services available through Chandler Libraries during the holidays and into the new year.
Grab & Go Kits for Seniors


For the past few months, Chandler Public Library staff and volunteers have been creating Grab & Go kits, each full of learning activities, books and reading recommendations, printed instructional materials and more. While many of the kits are targeted to families to support the educational needs of young children, there are also kits available for teens and adults. Library staff has also been mindful to include some of our community's older population as well. Approximately 300 kits have been created for homebound seniors and distributed through the City's Senior Center and local social service organizations, such as AZCEND. Kit themes and distribution schedules vary by location and can be found on the online activity calendar for each library site. All of the kits are funded by an Institute of Museum and Library Services CARES Act grant.
 

Bag 'O Books


By request, staff at the Sunset and Downtown library locations will put together a grab-bag of 20 books for a young reader or a bag of 10 books for teens or adults. You will then be contacted by phone or text when your bag is ready for pickup. Request your own Bag 'O Books online at Chandler Library.
 

New Graphic Novel Book Discussion Group


For those who love comics and graphic novels, the library's new Graphic Novel Book Club debuts in January. The group will be reading and discussing "Watchmen" by Alan Moore. This Hugo Award-winning graphic novel, which was recently adapted into an award-winning HBO series, follows the fall from grace of a group of superheroes plagued by all-too-human failings. Along the way the concept of superhero is dissected as the heroes are stalked by an unknown assassin. Copies of "Watchmen" can be checked out at the Downtown Library. This program is supported by the Arizona State Library, Archives, & Public Records, a division of the Arizona Secretary of State, with funds from the federal Institute of Museums and Library Services. The Graphic Novel Book Club is for adults 18 and older. Reserve your space in the discussion at Book Discussion.
 

Citizenship Classes




The Library offers 10-week sessions to help prepare students to take the US Citizenship Exam. Topics include American History and Government, the Citizenship application process and preparation for the Citizenship interview and oral examination. The next Citizenship class series starts on Thursday, Jan. 14, 2021 and continues weekly through March 11, from 12:30-2 p.m. at the Chandler Downtown Library. This workshop will cover the 100 civics questions and review the N-400 for those who applied for Citizenship before Dec. 1, 2020. Registration is required.
In addition to these programs, Library users also will find nearly 300 recently upgraded computers available to the public. The hardware, software and operating system on library computers are continuously monitored and updated, ensuring users that they will have access to the latest features and software. Chandler Library users can use the following software on any of the computers: Windows 10, Google Chrome, Word 2016, Excel 2016, PowerPoint 2016, Publisher 2016, VLC Media Player and accessibility software. Additionally, WiFi is accessible at no charge at our library locations. If you bring a WiFi-enabled laptop or mobile device, you can stay connected and enjoy limited use during Library hours. The Chandler Public Library places a high priority on public access to information resources as well as providing a safe and comfortable learning environment for all library users.
As COVID-19 precautions remain in place, a protective face mask is required to enter any Chandler Library, capacity is reduced for social distancing purposes and a registration process is in place for 45-minute sessions allotted for some services, such as computer access.
More information can be found online at Chandler Library or by calling 480-782-2800.

Media contacts:
Rosanna Johnson, Marketing Coordinator
Chandler Public Library
480-782-2865
Craig Younger
Public Information Officer
Communications and Public Affairs
480-782-2701