Jan. 13, 2023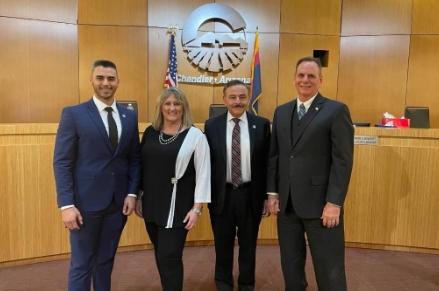 CHANDLER, Ariz. – Yesterday Mayor Kevin Hartke and Councilmember Matt Orlando were sworn in for their second four-year terms of service, while Jane Poston and Angel Encinas were sworn in to officially begin their four-year term as the two newest Chandler City Councilmembers.
After the Council installation ceremony, the new Council held a special meeting to elect a new vice mayor. The Council unanimously selected Matt Orlando to serve in this role through Jan. 11, 2024.
Mayor Hartke was first elected as mayor in January 2019. He previously served nine years on the City Council, first as an interim Councilmember in 2008, and then was elected to consecutive terms and served from January 2011 to January 2019. Mayor Hartke also served as vice mayor twice, in 2015 and 2017. He has resided in Chandler since 1985.
Vice Mayor Orlando began his fifth term on the City Council in January 2019. He also served as a City Councilmember from 1990-1998 and 2004-2013. Vice Mayor Orlando has been a Chandler resident since 1983.
Councilmember Poston has lived in Chandler for the past 13 years and also is a former City of Chandler employee. Councilmember Encinas is a native of Chandler and is the first LGBTQ person to serve on the Council. Both newly sworn-in Councilmembers will serve four-year terms through January 2027.
Mayor Hartke, Vice Mayor Orlando and Councilmembers Poston and Encinas now join Councilmembers Mark Stewart, Christine Ellis and OD Harris — whose terms on the City Council continue through January 2025.
Detailed bios and contact information for each City Councilmember is available online at Chandler Mayor & Council.
Media contact:
Stephanie Romero
City of Chandler, Public Information Officer
480-782-2231