March 4, 2021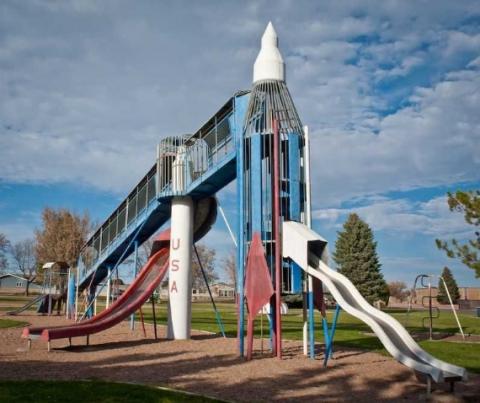 Two Chandler arts and culture spaces will feature exhibits in April and May that honor beloved childhood artifacts and play.
The traveling exhibition, Once Upon a Playground, will be on view at Chandler Museum, April 6- May 25, celebrating the heritage of the classic metal and wood structures that populated playgrounds for most of the twentieth century. The exhibit focuses on the towering metal slides, giant jungle gyms, whirling merry-go-rounds, bouncing seesaws and other beloved artifacts that many Americans over the age of 30 remember. The exhibit examines the cultural and industrial design heritage by combining recent photographs of classic equipment and vintage images of playground scenes from the Library of Congress.
PLAY Hard, on display at Vision Gallery April 3-May 8, features the work of artists Melissa Sclafani and Ellie Richards with both examining the idea of play through different lenses. Sclafani's political sculptures use the aesthetics of the playground to examine systemic racial and economic inequalities in communal outdoor areas, while Richards' artistic readymades and assemblages seek to address the distinct psychological shifts between objects and behaviors associated with childhood memory, labor and learning.
"While the theme of this exhibition may be serious, it is presented in a vibrant, playful way that will have visitors engaging with the pieces and examining their concept of play," says Peter Bugg, City of Chandler Visual Arts Coordinator.
In coordination with the theme of play, Chandler Museum will host a virtual Our Stories program at 10:30 a.m. on Saturday, April 17, featuring Chandler Community Services Director Andy Bass and Community Services Planning Manager Mickey Ohland. Titled "Playtime," the presentation will feature a discussion of the history of play and recreation, as well as current trends in playground equipment and park design. Registration is required.
"We hope both exhibitions will honor these icons of childhood and trigger fond memories for visitors," says Crago. "We look forward to the community coming and playing with us at Chandler Museum and Vision Gallery during the run of these shows."
Chandler Museum and Vision Gallery have social distancing reminders throughout their spaces, limit the number of visitors in the exhibit spaces and require face masks for the health and safety of their patrons.
Find more information by visiting Chandler Museum or Vision Gallery. 
Chandler Museum is an innovative learning environment where the community comes together to share our stories, store our cultural heritage and experience Chandler as a people and place. The vision of the Museum is to be the community's principal resource to explore its people's history, culture, and place in a rapidly changing world of today – within and without the walls of a building. The museum is located at 300 S. Chandler Village Drive, and is open Tuesday-Saturday, 10 a.m. to 5 p.m., and Sunday, 1-5 p.m.; closed on Monday. Admission is free. For more information call 480-782-2717.
Vision Gallery is a City of Chandler art gallery, managed by the Chandler Cultural Foundation. The space hosts six to eight exhibitions each year, featuring the local, regional, and national artists in a variety of media. Discover a varied palette of original artworks from oil and acrylic canvasses, to ceramic works, sculpture, jewelry and more. The gallery is located at 10 E. Chicago Street, and is open Monday-Friday, 10 a.m. to 5p.m., and Saturday, 10 a.m. to 4 p.m. Admission is free. For more about information about exhibitions and programs, go visit the Vision Gallery or follow us on Instagram.
More About Once Upon a Playground:
Once Upon a Playground is organized by ExhibitsUSA, a program of Mid-America Arts Alliance. The exhibition is co-curated by Brenda Biondo, author of Once Upon a Playground: A Celebration of Classic American Playgrounds, 1920-1975, and Carol Johnson, former curator of photography at the Library of Congress.
ExhibitsUSA sends more than twenty-five exhibitions on tour to over 100 small- and mid-sized communities every year. These exhibitions create access to an array of arts and humanities experiences, nurture the understanding of diverse cultures and art forms, and encourage the expanding depth and breadth of cultural life in local communities. For more about ExhibitsUSA, email MoreArt@maaa.org or visit ExhibitsUSA. 
Mid-America Arts Alliance (M-AAA) strengthens and supports artists, cultural organizations, and communities throughout our region and beyond. We achieve this primarily through our national traveling exhibition programs, innovative leadership development, and strategic grant making. We are especially committed to enriching the cultural life of historically underserved communities by providing high quality, meaningful, and accessible arts and culture programs and services. We believe in more art for more people. Additional information about M-AAA is available at maaa.org.  
Image credit: Brenda Biondo, Miracle Playground Equipment, Burlington, CO, 2007; color photograph, 24 x 30 inches; Courtesy of the artist.