Dec. 1, 2022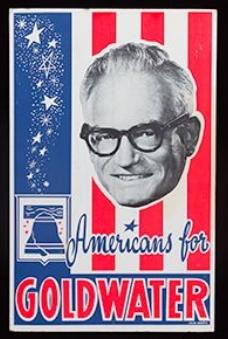 CHANDLER, Ariz. – For years, the American political poster has used visual language to catch our eye and capture our vote. Beginning Dec. 15, Chandler Museum will host the traveling exhibition Sign of the Times: The Great American Political Poster 1844–2012. The exhibition explores a variety of styles, design trends and printing technology that will delight your eye, engage your imagination and lead you to reflect over past political commitments. Sign of the Times features 50 exciting and rarely seen posters created over the past 170 years.
Historically, the American political poster has been neglected as an art form despite its effectiveness in conveying a political message to millions of voters. Sign of the Times brings eye-popping political graphics to the forefront and shows the great American political poster as art.
Sign of the Times highlights examples from various time periods showing technological and artistic innovations. The exhibition includes lithographic-printed posters and hand-colored portraits in the1840s along with "floating head" posters popular in the 1950s and 60s like the Dwight D. Eisenhower, John F. Kennedy and Barry Goldwater campaign posters. The show features the counterculture graphics that appeared in the late 1960s, the explosion of political art that emerged in the 1972 George McGovern campaign and the renaissance of political posters during the 2008 Barack Obama campaign.
Chandler Museum has pulled some campaign graphics out of the artifact and archival collection to highlight local candidates including Eddie Basha's run for Arizona governor. Those will be on display during the run of Sign of the Times.
Chandler Museum will host a family program to engage visitors of all ages. Visit the Museum on Saturday, Jan. 14 from 11 a.m.-2 p.m. for "In the Exhibits: If I were President…" After viewing the collection of past political posters, guests can create their own campaign poster and button and have fun with other presidential-themed activities.
Sign of the Times was curated by Hal Wert, Ph.D., collector and professor of history at Kansas City Art Institute, and was organized by Exhibits USA/Mid-America Arts Alliance.
Sign of the Times will be on display Dec. 15, 2022 - Jan. 19, 2023. The Chandler Museum is located at 300 S. Chandler Village Drive. It is open Tuesday-Saturday 10 a.m.-5 p.m.; Sunday 1-5 p.m. Closed on Mondays. Admission is free.
Find more information on the exhibitions and programming, visit Chandler Museum or by calling 480-782-2717.
About ExhibitsUSA
This exhibition is toured by ExhibitsUSA, a national program of Mid-America Arts Alliance. ExhibitsUSA sends more than twenty-five exhibitions on tour to over 100 small- and mid-sized communities every year. These exhibitions create access to an array of arts and humanities experiences, nurture the understanding of diverse cultures and art forms, and encourage the expanding depth and breadth of cultural life in local communities. For more about ExhibitsUSA, email More Art or visit ExhibitsUSA.  
About Mid-America Arts Alliance
Mid-America Arts Alliance (M-AAA) strengthens and supports artists, cultural organizations, and communities throughout our region and beyond. Additional information about M-AAA is available at Mid-America Arts Alliance.     
Chandler Museum is an innovative learning environment where the community comes together to share our stories, store our cultural heritage, and experience Chandler as a people and place. The vision of the Museum is to be the community's principal resource to explore its people's history, culture, and place in a rapidly changing world of today – within and without the walls of a building. More information is available at Chandler Museum.
Photo credit: Unidentified artist, Republican Party candidate Barry Goldwater, 1964; offset lithography, 22 x 14 inches; Courtesy of Hal Wert. 
Media contact:
Jillian Nakornthap
Chandler Museum
480-782-2882