June 2, 2021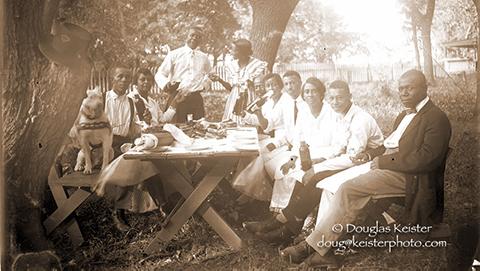 CHANDLER, Ariz. – In 1965, 16-year-old Doug Keister acquired 280 glass plate negatives from a local garage sale. He made prints from some of the plates to reveal powerful, early 20th-century portraits of African Americans living in Lincoln, Nebraska. These astonishing images are now part of a traveling exhibition curated by Keister, titled Black and White in Black and White: Images of Dignity, Hope, and Diversity in America. The exhibition will be on display at the Chandler Museum from June 29 to Oct. 17.
Black and White in Black and White features striking photographs attributed to African American photographer John Johnson. Using his Lincoln neighborhood as the canvas, Johnson crafted dignified images of his friends and family between 1910 and 1925. Equally as important as Johnson's depictions of African Americans are his images of blacks, whites and other racial groups interacting together, an occurrence that was nearly unheard of at the time
The Smithsonian Institution acquired 60 of these photographs for their collection. Michèle Gates Moresi, curator at the Smithsonian National Museum of African American History and Culture, underscores the importance of Johnson's work: "They speak to a time and a place where African Americans were treated as second-class citizens but lived their lives with dignity...You can read about it and hear people talk about it, but to actually see the images is something entirely different."
The Chandler Museum is located at 300 S. Chandler Village Drive. Museum hours are Tuesday through Saturday from 10 a.m. to 5 p.m. and Sunday from 1–5 p.m. The Museum is closed on Monday. Admission is free.
Find more information at Chandler Museum.

Media Contacts:Jillian Nakornthap
Chandler Museum
480-782-2882