Oct. 21, 2020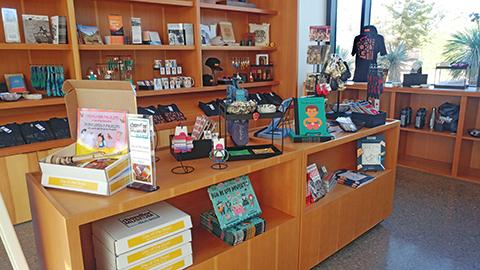 The Chandler Museum will host a weeklong Grand Opening celebration for its new Museum Store starting Sunday, Nov. 1 and continuing Tuesday, Nov. 3 through Saturday, Nov. 7. The store features a variety of quality gift items, including locally made pieces that capture the culture, history, and art of Chandler. Store purchases support the mission of the museum, and the store provides an additional interpretive space that enhances the stories told in the museum exhibitions.
During Grand Opening week, museum visitors will enjoy special deals or giveaways each day, including:
•           Sunday, Nov. 1: Prize drawing every hour,
•           Tuesday, Nov. 3: Free Museum swag,
•           Wednesday, Nov. 4: 10% discount on entire store purchase,
•           Thursday, Nov. 5: Sweet treat with every purchase,
•           Friday, Nov. 6: Free Museum reusable tote bag with every purchase,
•           Saturday, Nov. 7: One hour early admittance to Museum Store (9 a.m.).
The store features gift items related to current museum exhibitions, such as "Bigger than Boxing: Zora Folley and the 1967 Heavyweight Title," as well as items that tell the story of Chandler and Arizona, like saguaro cactus earrings, copper ornaments and magnets made from repurposed circuit boards. There are a variety of items with historic images from the Chandler Museum Collection including reproduced vintage postcards from the San Marcos Hotel and from Williams Air Force Base.
One of the unique displays in the Museum Store is the ostrich section, which is a nod to Chandler's ostrich history dating back more than 100 years. Town founder Dr. A.J. Chandler and others raised ostrich herds in Chandler for their feathers. Products in the store include ostrich-themed socks, a coloring book with ostrich sketches, ostrich feather earrings and a spiral notebook with a historic photo of ostriches in Chandler.
"Opening the Museum Store has been an exciting endeavor," says Jody Crago, director of the Chandler Museum. "It really adds to the visitor's experience at the museum. Our staff has worked hard to provide a wide selection of quality products while maintaining a clean, modern look to fit perfectly into the Chandler Museum lobby."
The Museum Store is located in the lobby of the Chandler Museum at 300 S. Chandler Village Drive. The store is open during Museum hours, Tuesday through Saturday from 10 a.m. to 5 p.m., and Sunday from 1-5 p.m. The facility is closed on Mondays.
Find more information online at chandleraz.gov/museum, or by calling 480-782-2717.